Edward B. Mierzejewski
Birth: 23 December 1924, Toledo, Ohio
Death: 7 September 1985, Toledo, Ohio
Relationship to me: Father
My father, Edward Mierzejewski, was born the year following my grandparents' arrival in the US on 23 December 1924. The family was recorded as living on Buckingham St. at the time of dad's birth, the same address as Helena's brother, John, was living there. This was the same address they had provided as a destination on the Ellis Island manifest on their arrival 23 February 1923.
By the time of the 1930 census, the family was living at 622 Woodstock, and per the census, they had owned the home. My dad was five years old at the time, the youngest of three children. His older siblings were considerably older than he was: sister, Celia, was 12 years older and brother, Walter, was 13 years older. By 1940; however, the family's circumstances had changed. The home was lost, probably due to the depression and per census data, they had been renting a home at 1143 Hamilton since at least 1935. At this point, my father was the only child living at home and was listed as a student.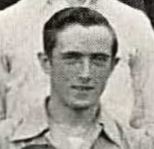 By 1940, my father would have been a student at Libbey High School, class of 1944. However his education ended as the US entered World War II. On his 18th birthday, 23 December 1942, dad signed up with the Selective Service, naming his sister, Celia as his contact. He was inducted into the Army on 21 July 1943 at Fort Benjamin Harrison, Indiana.
Dad was assigned to train at Las Vegas Air Field Sperry Gun School (now Nellis Air Force Base near Las Vegas) and at MacDill Field (now MacDill Air Force Base near Tampa). My dad was training to be a ball turret gunner on B17s and his first training assignment was at Las Vegas. On 4 February 1944, dad was involved in an aircraft accident at Las Vegas Air Field. Upon landing, the right landing gear failed to extend and caused damage to the outer wing panel and propellers. The pilot and crew were returning from a routine gun camera mission when it was discovered the right landing gear would not extend. The crew was given instructions to remain in the air until gasoline load had lowered and to make all loose equipment in the plane secure as well as to allow time for ground crews to move and rearrange equipment on the field.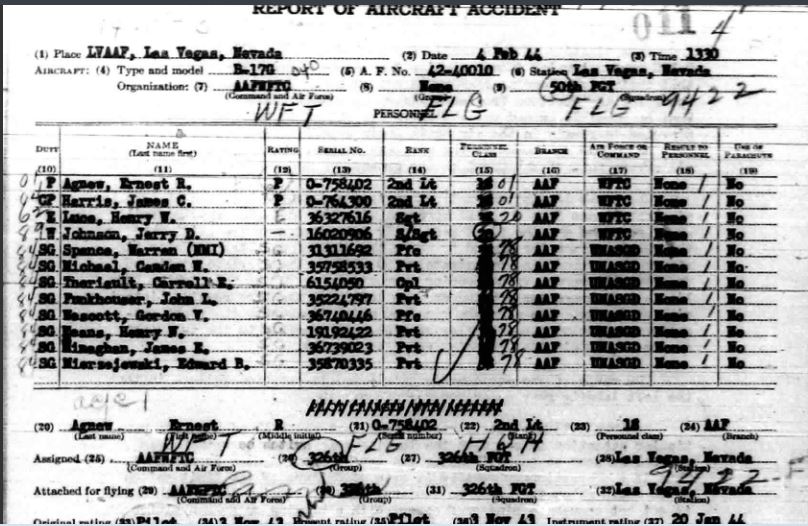 The crew was in contact with ground control and was landing was well supervised and controlled, with landing occurring about 1:25 in the afternoon. Using a normal approach, they had to land with the right landing gear fully retracted. The right propellers and wing tip struck the ground as the rear wheels touched ground. The plane continued approximately 275 yards while groundsweeping about 170 degrees to the right. All men on the plane were unharmed although the plane suffered considerable damage. Per the air craft report from the Army Air Corps, the plane was able to be repaired locally.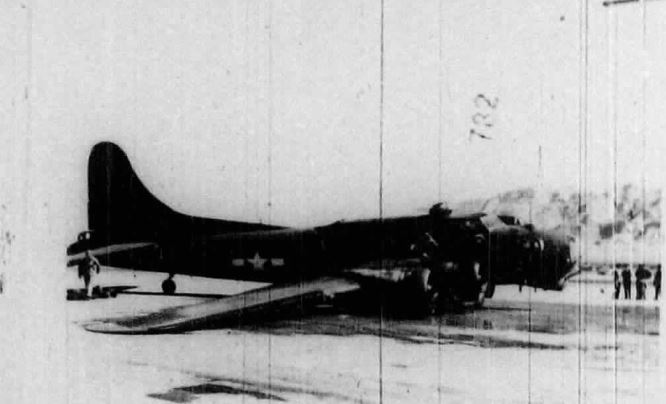 After training in Las Vegas, my dad went on to MacDill near Tampa. I have a beautiful original photo of his training crew, Crew 211, in which my dad inscribed the back with each of the men in that photo.
The photo was taken on 10 June 1944 and the men in that crew, their positions, and home locations were all given:
Top Row:
Pilot Flight Officer, Ramsey, California
Co-Pilot Flight Officer, Vaughn, New York
Navigator, Peck, Pennsylvania
Commander, Strickland, Virginia
Engineer Sgt., Tague, Chicago, Ill.
Bottom Row:
Assist. Engineer, Cpl. Reynolds, Waist Gunner, Oklahoma
Radio Operator, Sgt. Barth, Pennsylvania
Assistant Radio Operator, Me (Edward Mierzejewski), Ball Turret Gunner, Ohio
Armourer, Sgt. Casey, Waste Gunner, New York
Assistant Armourer, Sgt. Ratje, Tail Gunner, California
After completing training at MacDill, dad was sent to Europe to complete missions designed to attack German supply lines, oil lines, and transportation (depots, railways, airfields).
Several years ago, I did hear from Sgt. Ratje's nephew. Ratje survived the war to go home, but died in 1950 in California. Through Ratje's nephew, I also obtained a photo of a plane my father did fly in. The plane was named the Flying Latrine and its artwork was completed by a man named Charles Hollenberg. The plane did accomplish 71 missions and was built by Boeing. My dad was on this plane for mission 234 over Memmingham, Germany. The mission was to target an airdrome (small airfield) in Memmingham.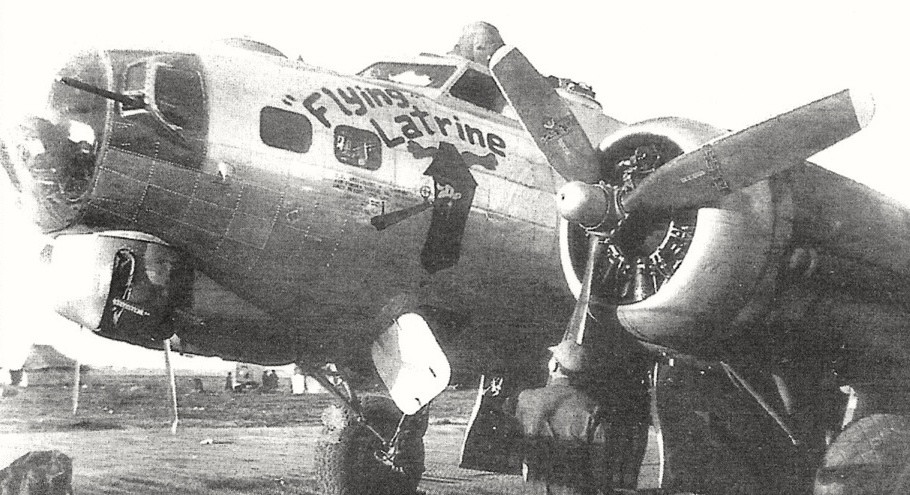 My dad also left us with very good detail about his time in Europe, although he spoke very little of his time in the Army Air Corps. While in Europe, dad maintained a handwritten log of all of his missions, starting on 13 July 1944 with his first mission to fly over Verona, Italy with a railroad bridge targeted. His first three missions on July 13, 15, and 18 were with the 2nd Bomb Group, 49th Bomb Squad. All missions after 18 July were 2nd Bomb Group, 96th Bomb Squad. Dad flew missions over Ploetsi, Blechammer, Odertal and several other critical areas where oil refineries and transportation hubs were located. One particularly brutal mission my father was involved in was Mission 263, or the Battle Over the White Carpathian Mountains in Czechoslovakia.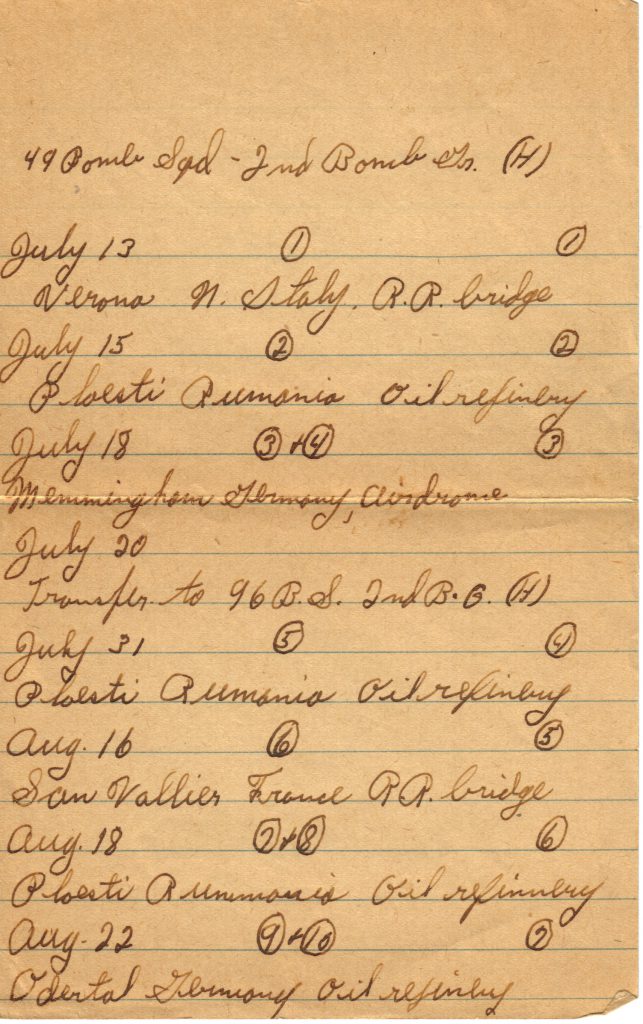 Dad flew 35 missions per his log and was given a furlough home. The Toledo Blade published a small article that stated "Vet of 40 Combat Raids Home for 20th Birthday." I'm not certain there were 40 raids, I have only noted 35. The article includes a nice portrait of my dad and reads:
"Sergt. Edward B. Mierzejewski, veteran of 40 combat missions over Germany, returned home recently to celebrate his 20th birthday with his parents, Mr. and Mrs. Walter Mierzejewski, 813 Evesham St. A ball turret gunner on a B-17 Flying Fortress, he wears the Air Medal with three Oak Leaf Clusters. He was overseas six months at a bomber base in Italy."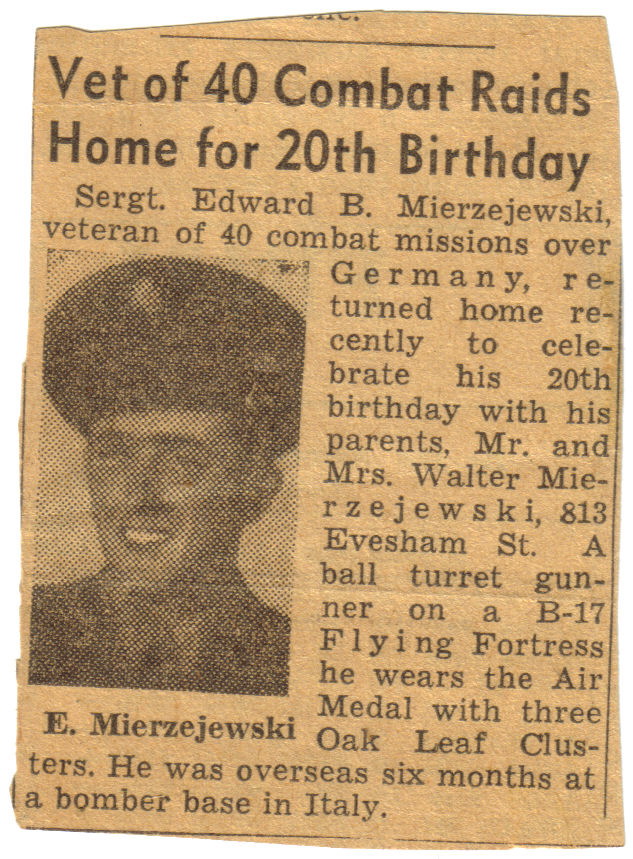 I am unsure of where the three Oak Leaf Clusters came from. Dad's discharge papers state "European African Middle Eastern Campaign Medal, Good Conduct Medal, Air Medal with 2 Oak Left Clusters, Go 3010 HQ 15AAF 14 Sep 44" in his decorations and citations.
An interesting artifact we found in my father's belongings after he passed away was an article from Yank Magazine dated 26 January 1945. The article was entitled Lone-Wolf Mission and told the story of a night bombing from Italy to Germany. A B17 that flew that mission that lost three of its engines and crashes into the sea. At the top of the article, in my father's handwriting, is a note: "This happened in my outfit and its a true story." A scan of the first half of the page is included here, but the entire issue of Yank Magazine of 26 January 1945 is here, with the complete story.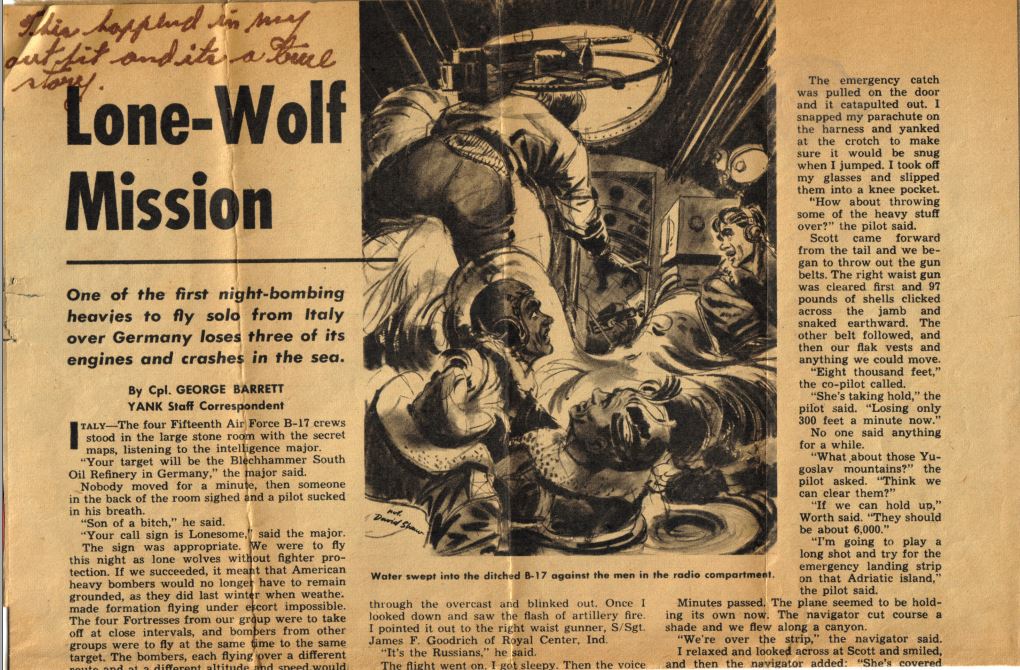 Dad was honorably discharged from the Army on 14 October 1945.
Dad returned to Toledo and just two years later, met and married my mother, Virginia Plenzler on 15 November 1947. My mother was guardian of her young nephew, David, at the time and my parents resided in mom' family home for a few years — at 722 Brown Street. Dad took on a father role early because of David. My parents would go on to have three daughters as well, including myself. Dad worked 30 years at Champion Spark Plug, mom worked probably nearly 30 years as well at F.W. Woolworth's downtown. Dad was an active member of the UAW, and I have a photo of him going on strike with his fellow workers sometime in the late 60s or early 80s. I also have a photo of my dad on the shop floor attending a union meeting.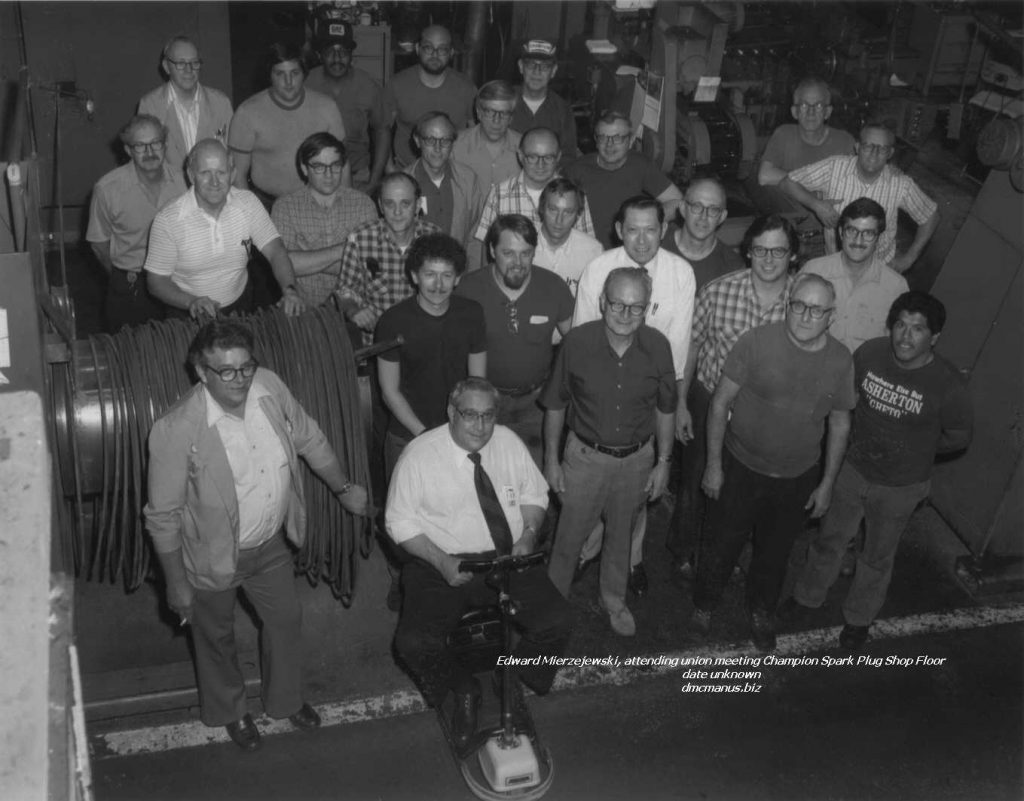 My father died on 7 September 1981, at the young age of 60 and is buried next to my mother, Virginia, in Calvary Cemetery, Section 14.