Władysław (Water) Mierzejewski
Birth: 20 June 1881, Borowice, Mazowieckie, Poland (disputed)
Death: 20 June 1974, Toledo, Ohio
Relationship to me: Paternal Grand Uncle
You are not seeing double. There are two Władysław Mierzejewskis in my immediate family tree. This Władysław is the brother of my grandmother, Helena. Helena's brothers have interesting stories that need to be told as I can document two of the three having been in Pennsylvania as early as at least 1910. Walter was born in Borowice 20 June 1881 to Stanislaus Mierzejewski and Anna Keijewska. His birthdate is per the Social Security Death Index and his World War II draft registration. However, his World War I draft registration states he was born 20 June 1878.
Władysław arrived in the US as early as 1907 per the 1910 census. While I have found no manifests or naturalization papers for Władysław , I am certain he was here at early as at least 1908 or 1909. He was married to his first wife, Apolonia and living with his wife and daughter, Zofja (Sophia) on Twelfth Street in Altoona, Pennsylvania. This information is reflected on the 1910 census. While living in Pennsylvania, he was employed with the railroads. Daughter, Zofja was born in April 1909, so Walter and Apolonia were likely married a year or two before. Per the 1910 census, Walter and Apolonia were married two years, and daughter Zofja was a year old. Apolonia died just months after this census on 12 September 1910 in Altoona of typhoid fever. Her obituary describes her as exceptionally beautiful.
Oddly enough, the obituary, published in the Altoona Times, provided her name as Cathalina. Her Pennsylvania death certificate provides her name as Mary. However, it is certain this is the wife of Władysław as he is named as Waldys in both the obituary and the death certificate and provides the address as Twelfth Street in Altoona. One thing I have consistently noticed in central Pennsylvania records–not in western (Pittsburgh region) or eastern seaboard (Philadelphia) — specifically central Pennsylvania–Cambria and Blair Counties (Altoona, State College, Gallitzen)–names are never what I expect. Meaning, either Polish surnames are often spelled phonetically (the obituary below is an exception to this observation). And for given first names, it sometimes a random first name. Like Apolonia became Mary and Cathalina in two separate documents. Another Mierzejewski I am researching, Konstanty, had his wife, Stefania, listed as Suffie or Stephanie Decosky or DeCosky on Pennsylvania documents.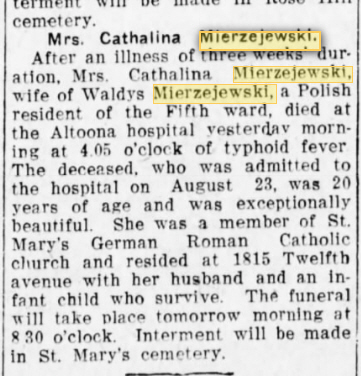 It's mentioned she was a member of St. Mary's German Roman Catholic church in Altoona. At the time, Altoona did not have a Polish parish and St. Mary's seemed to be best suited for the Poles in the region. The following year, a new parish was being built, Sts. Peter & Paul, which was to be primarily Polish, although it did have members of the Greek rite in the parish. The parish later began inviting Greek Orthodox priests to periodically come and provide Greek Orthodox services for those parishioners.
Widowed and with a very small daughter to care for, Władysław remarried not quite two years later. As the case with my grandmother and grandfather, Władysław too married a woman with the surname of Mierzejewski. Bronisława (Bernice) married Walter on 9 October 1912 in Sts. Peter & Paul parish, with pastor Fr. Julius Langer performing the marriage. The marriage record provides the names of Bernice's parents, Peter and Emily (I would think the names could be Piotr and Aniela or Emilia). Władysław and Bernice would go on to have two daughters together: Czeszlawa (Charlotte), born in 1913 and Harriet (Hattie), born in 1918.
We can learn a bit about Walter, and Bernice, and Zofja from a passport application Zofja made in Warsaw in 1924. She went to Poland with Bernice in 1921 and it appears Zofja lived there for about three years. This passport application states she last left the United States in May 1921 and arrived in Ostrolęka. Zofja also states that her step-mother brought her to Poland and that her step-mother was a Polish citizen. Additionally, an address that is commonly used with my grandmother's family–herself and two of her brothers, Władysław and Jan–1763 Buckingham Street is provided as her residence.
Władysław did leave Pennsylvania by 1918 as he gave his address as 1060 Hamilton Ave. on his World War I draft registration.
There is a picture of Zofja issued by Gmina Rzekun on 7 July 1924. This photo has been reproduced many times and is a poor photo but we do at least have an idea of what she may have looked like. The photo is autographed by her.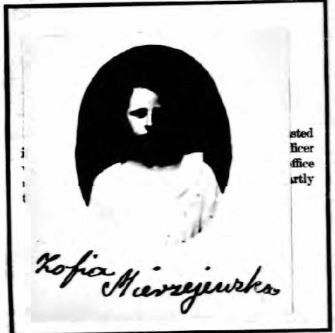 The passport application also states her identifying information was a Certificate of Baptism issued by St. Mary's of Czestochowa Church in Gallitzen, Pennsylvania on January 12 of that year to the Consulate General in Warsaw, and attached also was a copy of her birth certificate from Pennsylvania reflecting her mother's correct name of Apolonia. So this does prove I have the correct Zofja Mierzejewska because of the identifying passport information! And this brings to me greater detail in my grandparent's journey here. Both of my grandmother's brothers had lived at 1763 Buckingham within a span of a few years. They provided that address to my grandmother and grandfather to declare as their destination on the ship's manifest. My father would be born at this same address later the same year that Zofja would return to the US. I found a photo of this house through the Lucas County Public Library's Auditor's Images, Block Cards. The photo is dated 1937, so about 10 years or more after the Mierzejewski family no longer lived there. But it does give a good idea of what the home looked like. The number at the bottom is just an identifier for the County Auditor.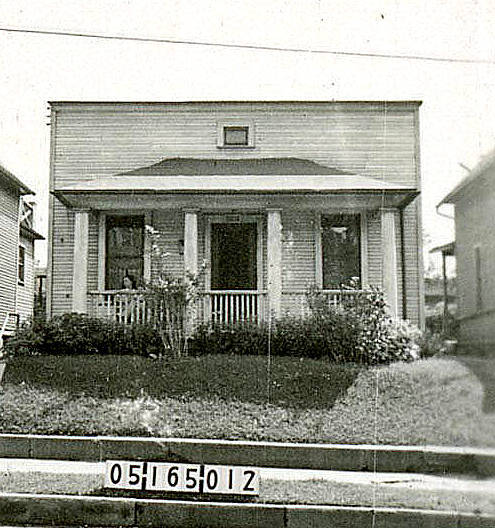 While I never have located Władysław's initial immigration manifest(s) or his naturalization papers (yet), the 1930 census states he submitted his naturalization papers and the 1940 census indicates him as naturalized. However, his wife, Bernice, was still indicated as an alien in 1940. I also came across an interesting manifest, dated 21 September 1927. Both Władysław and Bernice are listed on this manifest. They are returning from Kaczyny, Poland. The reason for the trip was given as "visit father."
What is interesting about this document:
It states Władysław's place of birth is Borowice, so I have additional verification of birth location.
Władysław and Bernice's US address given on this manifest was 620 Woodstock. Next door to Helena and her husband, Walter. (They were residing at 622 Woodstock per the 1930 census.)
There is a hint for tracing either Władysław or Bernice's father. (It does not say whose father they were visiting, and of course, finding a Mierzejewski there is as easy as finding ink on a newspaper, so considerable investigation needs to be done.)
It states that both Władysław and Bernice were in the US from 1908 to 1925. It appears as if they were out of the country for about two years, shortly after daughter Zofja returned to the US. So it's possible there is a gap in their US residency.
This does leave a question: where were all three daughters–Zofja, Charlotte, and Hattie–while Władysław and Bernice were in Poland? They are not listed on the manifest.
The 1930 census places them at 1791 Hamilton, and it is indicated they own their own home, valued at $4,400, with all five in the home.
The 1940 census tells a change in circumstances. Hattie is still living at home with Władysław and Bernice; however, they now live on Pinewood Ave., and are renting the home. Władysław was employed for only 26 weeks in 1939 and his income for that year was only $250. Daughter Hattie was employed in a brush factory. She too was only employed 26 weeks in 1939 and she brought home more money than her father–$312.
By 1942 and time for the World War II draft, Władysław and Bernice were living on Lincoln and Władysław was working for Willys Overland. By 1943, Bernice did become naturalized, I located her first-time voter registration card. For first time voter registration, her address was on Marmion Ave. Bernice's voter registration stated she was naturalized 24 June 1943.
Władysław and Bernice stayed at the home on Marmion until they each passed away. Bernice died first, on 19 June 1972. Walter passed just three years later on 24 June 1975. They are buried together in Section 42.