Konstanty Mierzejewski
Birth: 15 March 1886, Poland
Death: 26 February 1945, Toledo, Ohio
Relationship to me: Unknown
Birthplace: likely Rzekun or Jarnuty Ostrołęka County, Masovian Voivodeship
Konstanty was a bit of a surprise discovery for me. I haven't yet determined if there is a relationship to me or not; however, chances seem to be fairly good there is a link. There are small pieces of information that can lead me to believe we are related; however, that paper trail still needs to be completed. So I am putting this biography out there in hopes that possibly someone can help make a connection. Mierzejewski is a fairly common surname in the region my father's family came from, so for a while I had written off any possible connection. However, a few piece of information came up that made me think there is a possible connection.
Konstanty was the son of Julian and Anna Borkowska (parents names as provided on his death certificate). He was born in Poland but I do not yet have a location and confirmation of the date of his birth
Konstanty has three known siblings: Szeczpan (Steve), Eleanor, and Adela. There is possibly a fourth sibling, John, who remained in Poland and never came to the US per oral history given to me by Konstanty's family. I am guessing that it is highly likely that Konstanty came from Jarnuty or Rzekun, Ostrołęka County, Masovian Voivodeship based on information I've gathered on two of his siblings: Steve and Adela.
I have located the birth record for his sister, Adela. She was born in Jarnuty on 18 March 1895 and baptized in the Catholic Parish in Troszyn (pow. Ostrołęcki) on 19 March 1895. This area of Poland was controlled by Russia and all records were required to be recorded in Russian.
#13 Jarnuty

Birth registered and child baptized in Troszyn on 19 March 1895 at 2pm.

Declarant: Julian Mierzejewski, age 39

Witnesses: Maciej Mierzejewski, age 45 and Adam Zaworski.

All three are peasant farmers in Jarnuty.

Newborn girl born in the village of Jarnuty yesterday at ten o'clock in the evening.

Name: Adela by father Julian Mierzejewski

Mother Anna née Borkowska, age 30

Godparents: Ignacy Białobrzewski and his wife Teofila

Signed, Fr. Jan Marcinowski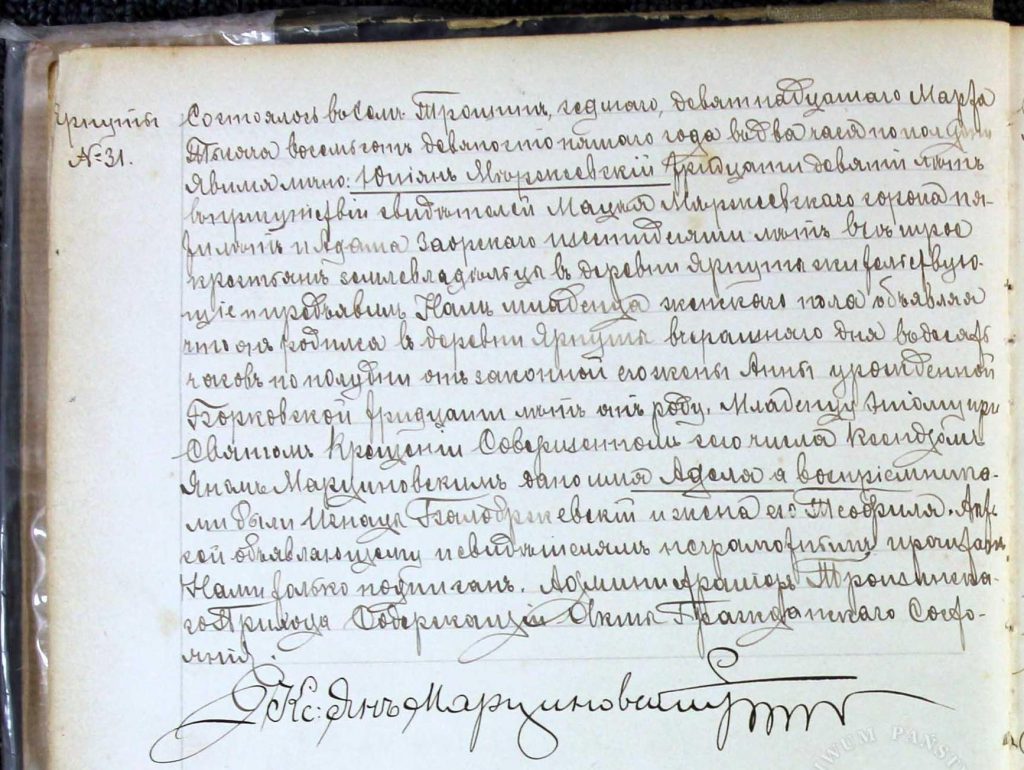 I have also been able to locate the manifest that showed his brother, Steve, arriving in Philadelphia on 10 November 1910. On that manifest, it states that Steve's last residence was Rzekun and that his contact in Poland (Russia) was Ignacy Mierzejewski. Ignacy was a half-brother to my grandfather. His parents were Jan Mierzejewski and Eleanora Gumkowska.
I am still looking for Konstanty's birth record, which based on his US death certificate would be dated 15 March 1886. The distance between Jarnuty and is approximately five miles. Jarnuty fell within the parish of Troszyn (pow. Ostrołęcki) and Rzekuń has its own parish. I've searched both parishes to only find Adela's birth record. These villages are very close to the villages that my grandparents would have come from–however, the name is an issue. A bit of research in the area of Ostrołęka shows that there are today 695 people living there today with the surname Mierzejewski, and 201 in Łomża. So overtime, from 1800 onward, there are many people to search through. All likely are not related or if so distantly. This name issue does need to be addressed because I've heard it said "oh Mierzejewski can't be very common, finding your relatives should be simple." Ah, no, sorry. In the US, the name is not at all uncommon based on the sheer large numbers of Polish immigration starting from 1870 through the 1920s.
Mierzejewski is a toponymic name, meaning it simply refers to the topography or a description of the area–a marshy land. Poland, especially in the Russian partition, did not adopt surnames until much later than many other Europeans. When they did, they often adopted a name that described where they lived, or an occupation, or possibly a father's name. So therein lies most of my problem! This was a region of peasants, serfs, farmers. They simply adopted a name that described where they were from. Also this region of Poland does have record available and many organizations in the country are working to make archives accessible and digitized. However, there likely could be missing record sets that were lost just to damage or possibly are too fragile to scan. This area of Europe was torn apart by war many times–World War I, Polish-Soviet War, and World War II. History was not kind at all to Poland. So what seems to be an easy task is complicated by history. I'm seeking needles in large haystacks.
Konstanty was married to Stefania Dykowski, 3 June 1907 in Gallitzen, Pennsylvania at St. Mary's of Czestochowa Church. This was the same parish where my grandmother's brother, John, had married in 1912. So it was very likely they at least knew one another.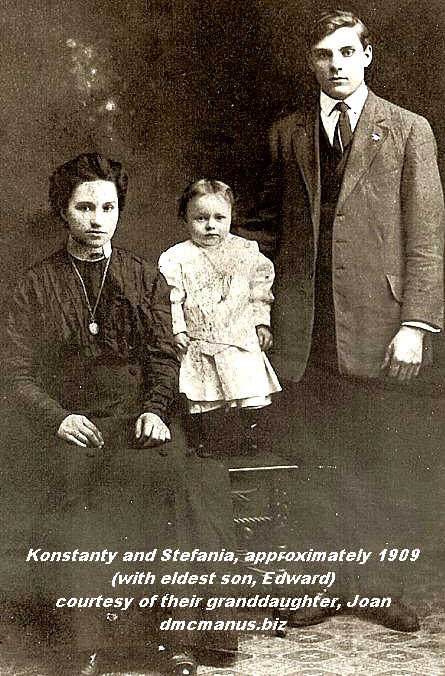 I have not yet found a manifest showing Konstanty's arrival in the US; the 1920 census states he was here in 1903.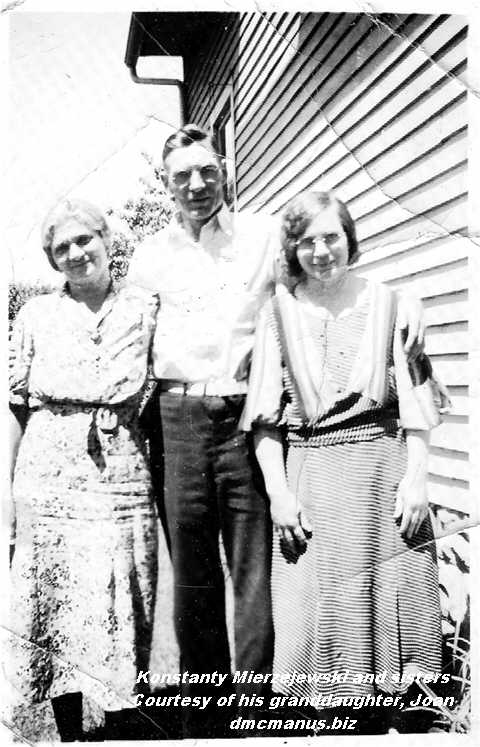 Brother, Steve, moved to Meriden, Connecticut and died there on 1 October 1932. His obituary published in the Meriden Record-Journal makes no mention of a brother, John. It does mention Konstanty and their sisters:
STEVE MIERZEJEWSKI Steve Mierzejewski, 42, of 132 Ann street died at his home Saturday after a short illness. He had mace his residence in Meriden for the last fifteen years, and was an employee of the Charles Parker company. He was a parishioner of St. Stanislaus church and a member of the Falcon club, the St. Casimir society and the Bratnia Pomoc, and was well known and highly respected in his community. Besides his wife, Mrs. Catherine Mierzejewski, he leaves four daughters, Misses Eleanor Stacia, Rose and Veronica Mierzejewski; three sons, Walter, Czeslaw and William Mierzejewski; a brother, Konstanty Mierzejewski of Toledo, Ohio, and two sisters, Mrs. Frank Peczenski and Meriden and Mrs. Frank Muraski of Toledo. The funeral will be held Tuesday morning at 7:30 o'clock at and St. Stanislaus Roman Catholic church at 8 o'clock. Burial will be in the family plot in St. Stanislaus cemetery.
On Konstanty's death certificate, his parents are named as Julian and Anna Borkowski, and that information was provided by his wife, Stefania. So why did Steve name Ignacy as his contact in Poland? Steve named Julian and Anna as his parents on his marriage document in Pennsylvania that I located. This is an interesting question, and one that does cast possibility that I am related to Konstanty. My grandfather, Władysław, had a half-brother named Ignacy. Ignacy was living in a village called Tomasze, which is about 12 kilometers from Rzekun (about 7.5 miles). I would guess that it was possible Steve and Konstanty's father was deceased when they immigrated to the US. Unfortunately, I cannot fully transcribe the name of the person who was Steve's contact in the US. The first name appears to be Stanislaus, but the surname is difficult to read. It possibly may be Mieczkowski and very possibly not Mierzejewski. This contact was located in Pennsylvania.
An oral story I was told was that Konstanty headed for the US, came through Ellis, and headed north to Connecticut to live with his sister and brother. In 1905, he headed to Altoona, Pennsylvania and became a coal miner.
Konstanty and Stefania remained in the central Pennsylvania region until approximately 1917, living in Gallitzen and then Windber. Their first five children were born in Pennsylvania. An interesting but small article on a gathering and gifting for the occasion of the baptism on their son, Stanley born in 1912, was published in Zgoda. Zgoda was a Polish weekly newspaper published in Chicago, and operated under the auspices of Zwiazek Narodowo Polski (ZNP) or the Polish National Alliance. The ZNP encouraged organizational unity among Polish immigrants. the title Zgoda means "harmony." and it kept Poles informed on developments in Poland as well as provided new and information on Poles in different communities. The 12 July 1912 edition article is roughly translated below:
Windber PA

The following were gathered for Konstanty Mierzejewski's son baptism ceremony : Adam Rutkowski 25, Stanislawa Rutkowska 25; Antoni Strapet 25; Anna Strapet 25; Helena Lasrnowska 50; Stanislaw Murawski 25; Stanislaw Dusak 25; Małgorzata Dusak 25; Konstanty Mierzejewski 25; Stefania Mierzejewska 25; Szczepan Mierzejewski 50; Boleslaw Krygel 50; Dominik Stepnowski 50; Stanislaw Krysz 30, Anna Krygel 25; Jozef Dusak 25; Feliks Wojno 60; $ 6.05 was raised in total.

Sz. Mierzejewski, Finance Secretary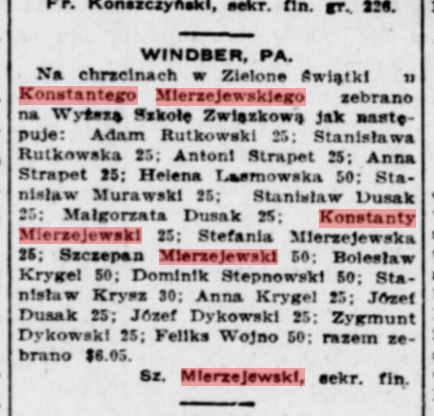 I believe that Sz. Mierzejewski who submitted this article would be Konstanty's brother, Steve.
Konstanty and his family were residing in Toledo by 1918 as indicated by his World War I Draft Registration Card. His family had told me that Konstanty was naturalized in 1914, in Somerset, Pennsylvania. His son, Zigmund was the last child born in Pennsylvania in 1915, so it's likely Konstanty and the family moved to Ohio 1916 or 1917.
Another possible link to my family can be found in Konstanty's son, Roman's (Raymond) baptismal record from St. Stanislaus Parish in Toledo, dated 11 August 1917. The godmother indicated was "Theophila Mierzejewski." My grandmother's brother, Jan, was married to Teofila. I believe the spelling discrepancy may be due to simple language variances. Roman Catholic sacramental records were maintained in Latin, and all children's names were typically provided in the Latin form. So there is a possibility. Konstanty's name was provided as well in the Latin form, Constantine.

Konstanty obtained a job at Willys Overland, the predecessor to today's Jeep Plant, in Toledo as a sander in the paint shop. Per conversation with his family, he also worked as a farmhand and bootlegged whiskey during Prohibition in order to earn extra money.
By the 1940 census, the family was living on Earl Street and were members of Good Shepherd Parish. Konstanty died in his home on Earl Street on 26 February 1945. A prayer card was located by Konstanty's belonging for my grandfather, Walter Mierzejewski. I was told that Stefania, Konstanty's wife, said that this was Konstanty's brother's son. Now, this does not quite add up, although it is a significant clue. My grandfather passed away after Konstanty, on 1 May 1946. Possibly it was Stefania who obtained the card, possibly attending my grandfather's funeral.
Additionally, Konstanty was born in 1886. While my grandfather's father was named Jan (John) and the family states that Konstanty had a brother named John. However, my great-grandfather was born approximately in 1837, per his stated age at the time of his marriage to Anna Budziszewska in 1864. My grandfather was born in between 1876 and 1883.
That would mean almost 50 years' age difference with siblings, and that's at the very outer edge of believability. But there is likely some connection. Konstanty is from the same region. My grandfather stated his birth was in Tomasze. That is approximately 24 miles from Jarnuty. Transportation was not impossible at this period. Trains were in use, it was not uncommon to hitch a wagon and travel. There is a connection very likely, I am just uncertain what that connection can be.
I hope eventually to locate records or evidence to tell me exactly how Konstanty and his family would be connected to mine.