Helena Mierzejewski
Birth: 23 April 1884, Borowice, Mazowieckie, Poland
Death: 7 May 1959, Toledo, Ohio
Relationship to me: Paternal Great-Grandmother
Helena was born 23 April 1884 in Borowice, Mazowieckie, Poland to Stanislaus Mierzejewski and Anna Keijewska. I have not yet been able to locate her birth record in Poland; however, her husband, Walter did provide her birthdate and place of birth on his naturalization paperwork. I have not yet located Helena's naturalization paperwork, although she did eventually become naturalized as I have found voter registration records for Helena. I do not know much of Helena's and her husband, Walter's early life. They were married, again per Walter's naturalization paperwork on 10 February 1908 in Borowice. Helena's parents were Stanislaw and Anna Keijewska. Yes, her maiden name was Mierzejewski. No, we have not yet so far found any reason to say she was related to her husband.
Helena had three brothers: Władysław (Walter), Kaliksty (Kelly), and John. All four sibilings ended up settling in Toledo. Władysław and John did reside in the central Pennsylvania area for a time. I have not found whether Kaliksty was also in Pennsylvania or came directly to Toledo, Ohio.
One thing I have found through this journey of discovering the lives of my ancestors is that Mierzejewski is a very common name, particularly in the regions they came from. Mierzejewski is a toponymic surname, meaning it refers to the geography or topography of the area they came from. It refers to marshy land or a spit of land (as in a small peninsula). When trying to research my grandmother's possibility of being related to her husband (I have neither proved NOR disproved they are related–but my conclusion is it's not highly likely they were)–I've found that in Ostrołęka alone there are today 695 families with this surname. In Lomza, there are approximately 201 families with this surname. And in Warsaw, a fairly large city, there are 830 families with this surname. While the name can be found in other regions, I have found a few instances of it in Poznan, it seems to be fairly concentrated around Warsaw and within the Mazowieckie/Masovian voivodeship. There were at least four families that I have found in the Toledo area with the Mierzejewski surname, and I believe I am related to one line, my grandmother's, and possible two of these lines–if I can establish a relationship to other Mierzejewski families to my grandfather. So until proven otherwise, I'm of the belief that my grandparents were not related. From the little history I have obtained on the surname, it's common because it toponymic and in Poland, particularly the region my grandparents have come from, surnames were not in wide use other than the nobility until the 18th century, about the time of the three partitions of Poland. So it seems many decided to go with a surname that described the area they came from when time came to choose a surname.
Helena and Walter had three children: Waclaw (Walter) and Czeszlawa (Celia), both born in Poland. Then they had my father, Edward in 1924, the year following their arrival in the US.
Walter had been in the US at least twice prior to settling with the family in Toledo. Helena remained behind as she had two small children during that period. From oral family stories, Helena and Walter did have a small farm and a few farm animals (cows and a bull), likely milled wheat, and possibly lived in a community that contained both Roman Catholic citizens and Jewish citizens. The story told had been the community was rural. Priests would travel to attend to the sick and dying or to perform marriages. The community, whether Jewish or Catholic, would gather for a death to prepare a body for burial.
Helena and Walter arrived at Ellis Island on 20 February 1923. Walter had been admitted to the hospital on 9 March and the family was indicated a LPC QE (likely public charges, quota exceeded), and Helena was noted as unable to read and write in her native language. It's not yet known the reasoning why they were admitted to the country, but Walter was discharged from the hospital on 23 March and they were admitted on 24 March.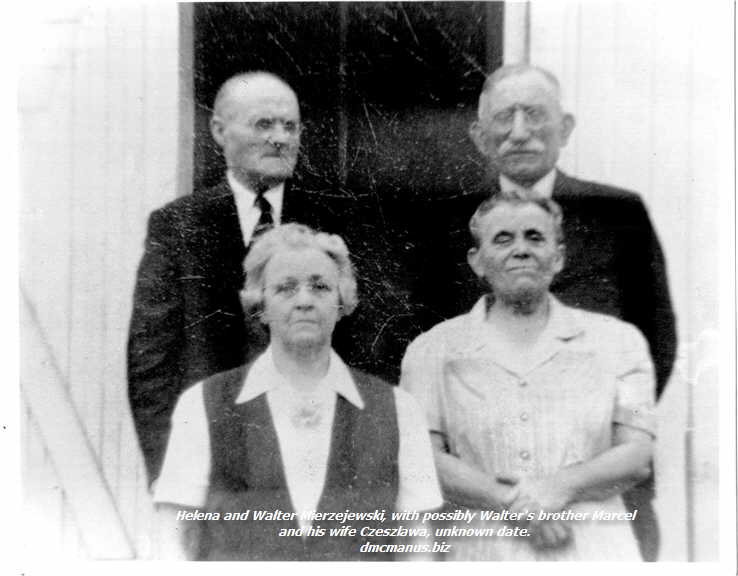 It seems Helena may have been illiterate most of her life. The 1930 census indicates she could not read and write for most of her life. She certainly did not naturalize at the same time as her husband. I have not found her naturalization paperwork yet; however, I did find a voter registration card for her first time registration. This record was signed on 23 September 1943, and it does provide a signature by Helen. It states that was was naturalized in the US District Court at Toledo in 1942.
The family lived on Woodstock Ave. until sometime in the late 1930s. They owned the home, and it was valued at $5,300. However, the 1940 census shows them renting a home on Hamilton Ave. The family did lose their home on Woodstock during the Great Depression. Eventually, they had a residence on Evesham Ave., in back of St. Hyacinth's parish.
Helen died on 7 May 1959 and is buried with her husband in Section 41 in Calvary Cemetery.