Andrew (Andrzej) Przybylski
Birth: About 1841, likely somewhere near Chomętowo, Kujawsko-Pomorskie, Poland
Death: 25 January 1894, Toledo, Ohio
Relationship to me: Great-Grandfather
Andrew was the son of Valentine Przybylski and Josepha Kuczma. I have been able to locate three siblings for Andrew: Franciszek (b. 1836, d. unknown), Michael (b. 1839, d. 1894), and Marianna (b. abt. 1847, d. 1881). Andrew was so far the only child of this family to come to the US; however, his brother Michael's son, John, did come to the US and married into the Plenzler line–he married Margaretha Plenzler's and Michael Mruk's daughter, Tecla. (There were several marriages into with the Plenzler and Przybylsks lines. It got quite comical a few times while I was trying to figure out relationships.)
Andrew married Frances (Franciszka) Rochowiak on 12 October 1873 in Chomętowo, Kujawsko-Pomorskie, Poland. The marriage record does not contain much detail but does provide Andrew's parents' names.
It seems as if Frances' family could have been a motivator for Andrew and Frances to come to the US in 1880. She had an older brother, Lawrence, who had settled in Toledo, Ohio in about 1874 or 1875. Frances was orphaned as the age of 14 and it's likely that she and another half-brother were living with Lawrence until he had left Poland in 1875.
Andrew seems to have arrived ahead of Frances. The document that stated his Intention to Become a Citizen stated he arrived here in May 1880. This document was signed and accepted by the Probate Court of Lucas County on 11 October. By 1880, Frances had borne three children (Marianna, Frank, and John). Daughter Rose, the fourth child, was born in June of 1880 in Dobrylewo, Kujawasko-Pomorskie. So that establishes the fact that Frances would have traveled after the birth of Rose to meet Andrew. Per the 1900 US Census, Rose stated she arrived in the US in 1881.
I have a scan of a photo that is in poor shape of the family not long after arrival in the US. I had estimated this photo to have been taken sometime in early- to mid- 1883. The photo has Andrew, Frances, and five children. These would have been the five eldest children, and that fact gave me a date range for the photo. Fifth child, Victoria, was born in December of 1882. The photo shows Frances holding an infant of maybe 4-6 months old.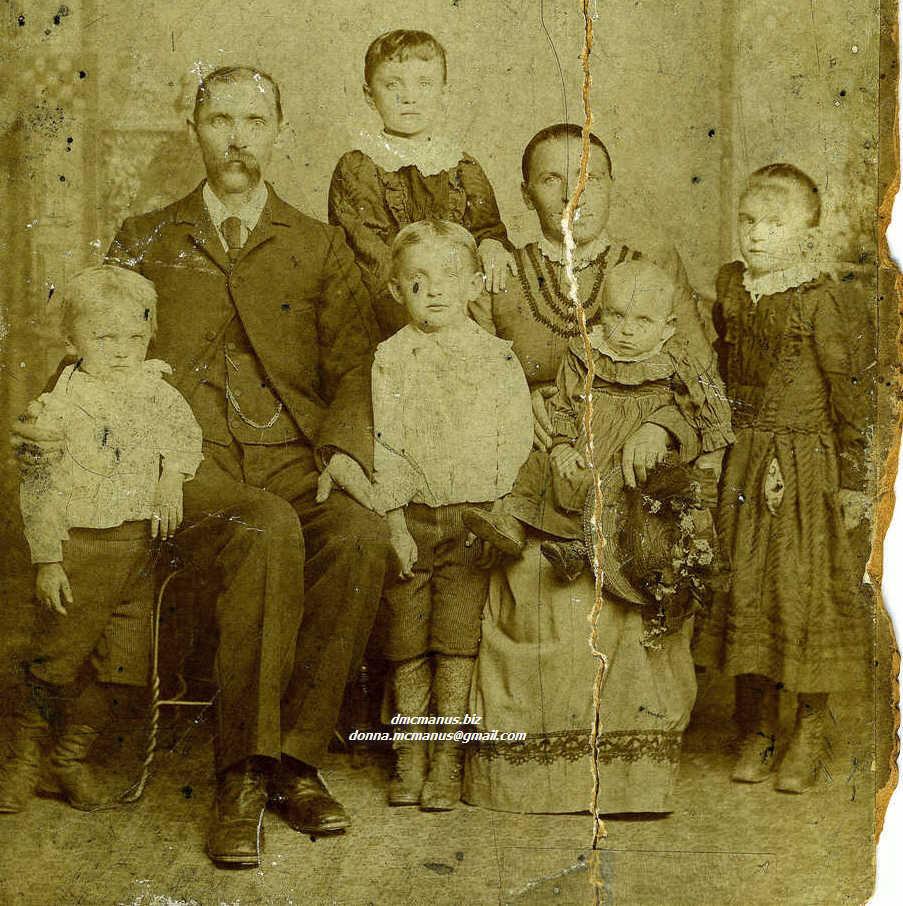 Andrew and Frances would go on to have a total of 11 children, nine survived to adulthood, four born in Poland, and seven born in the US. One of these children, Anastasia, would be my grandmother.
Andrew would not have a long life in the US. He died 26 January 1894 of jaundice or a liver disease. Per Ohio County Death Records for Lucas County, 1889 – 1897, he was employed as a railroader. He is not buried with his wife (both are at Calvary Cemetery). His grave is in Section 30. I was hoping his stone would have provided a birthdate, at least a birth year. But it did not. The stone itself is very worn and fragile. It reads:
Andrzej Przybylskiego (Here lies or here is Andrzej Przybylski)
UR 26 Styczeń 1894 (Date of death 26 January 1894)
Ojciec (Father)