Anastasia Przybylski
Birth: 23 February 1889, Toledo, Ohio
Death: 13 March 1946, Toledo, Ohio
Relationship to me: Maternal Grandmother
Anastasia was born 23 February 1889 to Andrew Przybylski and Frances Rochowiak in Toledo, Ohio. She was the eighth child out of 11, nine of whom survived to adulthood.
She married Stanley Lawecki in St. Stanislaus Parish on 20 September 1909 and bore the couple's only child, a son named Daniel on 21 July 1910. The 1910 census shows Anastasia living with her mother, Frances, her sister, Eva, and her husband, Stanley at 1259 Vance. This was the home Frances settled in with her husband, Andrew, and their family after they arrived in Toledo.
Anastasia's first marriage was short-lived. Stanley died 9 October 1910 of typhoid fever. Their son, Daniel, died less than a month later on 2 November of cholera.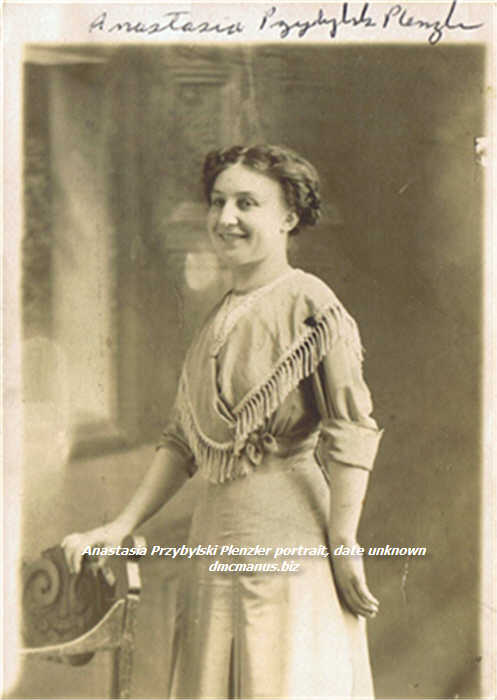 She then married John Plenzler on 4 November 1912 in St. Stanislaus parish shortly after John's discharge from the Marines. I have the original document titled "Wedding Souvenir" (not the actual marriage record) from the parish, a beautifully colored print that is in remarkable condition considering that it is over 100 years old. It's embossed with the parish's stamp and written in Polish. Translated it it reads:
Wedding souvenir
In the year of the Lord 1912, on November 4, they received the sacrament of marriage in the church of St. Anthony, Toledo, O. Jan Plenzler and Anastazya Przybylska.
Fr. J. Kuta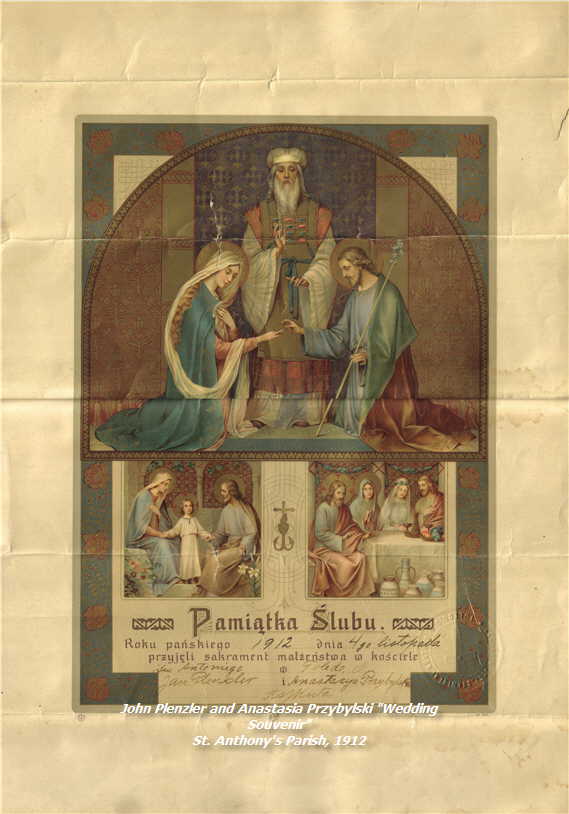 John and Anastasia's marriage record indicate the physical church they are married was St. Anthony's. However, the marriage was actually recorded within the parish of St. Stanislaus. About 1908, when Toledo was still part of the diocese of Cleveland, Bishop Horstmann ordered St. Anthony's parish to be divided due to its fast growth. About 1908-1909, the population of St. Anthony's was estimated to be over 5,000 souls. St. Stanislaus parish arose from this decision, and was just a block away from St. Anthony. Parishioners of St. Stan's attended mass and sent their children to school at St. Anthony's until until the new church-school building was finished in 1913 and dedicated by Bishop Schrembs. By this time, the division of Toledo into its own diocese was completed. The population of St. Stanislaus was large–in the 1930s and 1940s, the population exceed 3,600 souls.
Anastasia and John would have three children:
Raymond, b. 1913, d. 1960
Florence, b. 1915, d. 1999
Virginia, b. 1926, d. 2011 (my mother)
The family resided at 722 Brown Ave. My mother and her brother and their nephew resided together at this home, along with my dad after their marriage, until about 1950. The home no longer exists, but I did locate a photo of it from 1931 through Ohio Memory via the Toledo Lucas County Public Library. This photo from 1937 was taken by the Lucas County Auditor for tax assessment purposes. The unidentified man holding the sign simply is identifying the property. To me, it's interesting to think I could be looking a photo taken a time my mother and grandmother literally could have been in that house. My mother would have been 10-11 years old when this photo was taken. It's a typical house in the Kuschwantz–what was sometimes referred to as a "shotgun" house, a wood, rectangular home, with rooms arranged one behind the other and doors opposite each other at each end of the house. It was called "shotgun" because you literally could shoot a gun through the front door into the back door.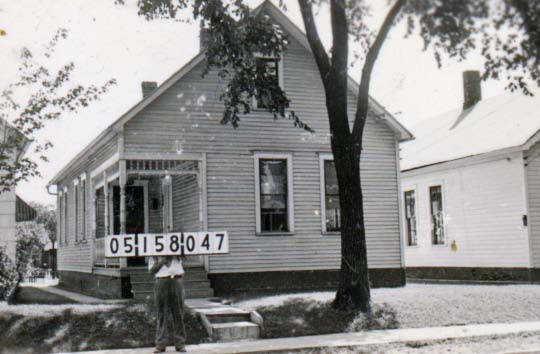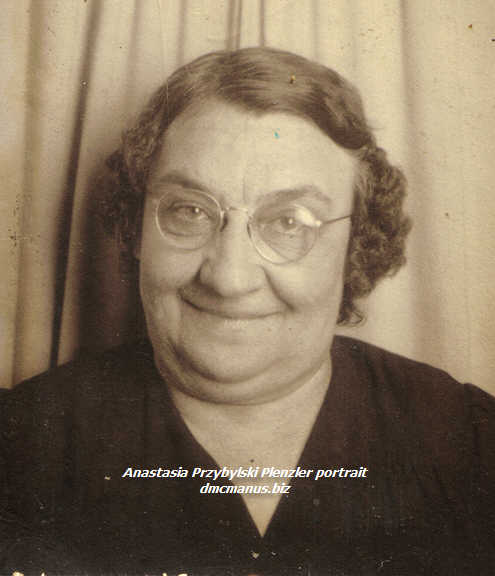 Anastasia was widowed on 2 August 1936 when John died of cancer. The 1940 census shows that Anastasia remained in the Brown Ave. home, living with all three of her children. Son, Raymond, was working as a barber and daughter, Florence, was working in an auto glass factory.
Anastasia passed away on 13 March 1946 from a stroke/cerebral hemorrhage due to essential hypertension. A treasured keepsake I obtained from my mother is the Memorial Record book that was given to the family from Sujkowski Funeral Home. All who attended Anastasia's visitation at the funeral home, sent flowers, sent cards, made a contribution in her memory, or requested a Memorial Mass to be said for her are all listed in the booklet. It seems much of her immediate and extended family attended her services and as had a large circle of friends. A few of the names very familiar to me are Mrs. and Mrs. Andrew Sieja, Mrs. and Mrs. John Zielinski, Joseph Konczal, Mr. and Mrs. Stanley Jankowski, Delphine Hejnicki, Mrs. Cora Nafes, Mrs. Mary Erdman. The list is extensive. It brought a smile to my face to realize she was beloved in her family and community as I never got to know my grandmother. There were even flowers or Masses offered for her memory from the "The Boys from the Brown Avenue Nite Club," The Young Ladies Soldarity, and "The Girls — American Swiss Co."
This outpouring, even over 75 years later, touched me particularly when I read Anastasia's funeral prayer card. There is a quote from St. Ambrose on the card that reads: "We have loved her during life; let us not abandon her until we have conducted her by our prayers in the the house of the Lord." She was well conducted.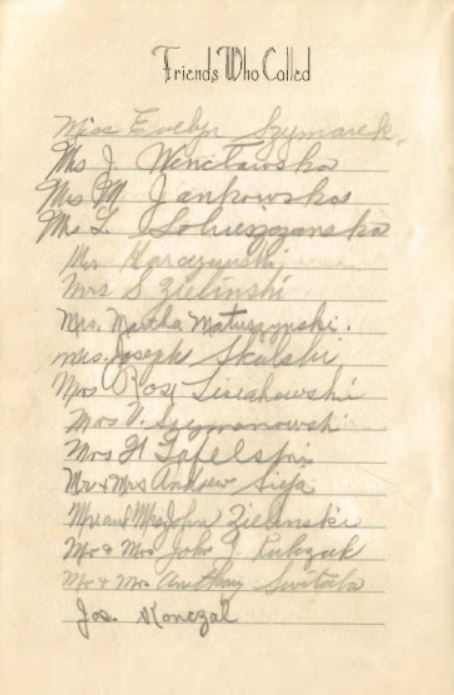 The booklet even provides the names of her pallbearers: Roman Sieja, Stephen Szymanowski, Ollie Plenzler, Ollie Raszka, Leo Erdman, and Louis Przeslawski.
Anastasia was buried in Calvary Cemetery next to her husband John in Section 32.