John Przybylski (Seblaski)
Birth: 7 May 1878,Redczyce, Kujawsko-Pomorskie, Poland
Death: 10 June 1950, Miami, Florida
Relationship to me: Maternal Grand Uncle
John was the third child of 10 born to Andrew Przybylski and Frances Rochowiak. While I have not found any immigration information for John, he would have arrived with his mother shortly after the birth of his sister Rose in June 1880. Father, Andrew arrived in May of 1880 per his Declaration of Intention to become a Citizen. I have not yet found any "father's papers" for John. During the late 1800s, children were naturalized under their father, but they were required to submit "father's papers" or "minors papers" before or at the age of majority in order to vote or join the military. While I have located the minors papers for John's older brother, Frank, I have not yet located them for John. I have also been told he used the name "Johnnie Bear." Nothing under this name has been found, either.
There have been a few stories in my family that John ran booze during Prohibition. Maybe he did. Maybe he didn't. Truth be told, I never found any evidence of it. Part of the story of his booze running includes mention of the Purple Gang. That suspicion remains because John and his wife, Hedwig, did live in Detroit for a time. Booze smuggling between Windsor and Detroit was not at all uncommon. There are stories of runners walking across the frozen Detroit River into Windsor and men driving boats along the river and in Lake St. Clair. So far, it all seems to be conjecture. However, no one seems to know why he changed his surname. He was informally nicknamed as "Rex" in his family. I've searched for records using both first names and both surnames and no records seem to exist that would connect him to the Purple Gang or any booze running.
I have an undated photo of the Przybylski brothers, Joseph, Frank, and John. The photo likely was taken after 1919 since it does not include their brother, Stanislaus, who was killed in an industrial accident at Acklin Stamping in 1919.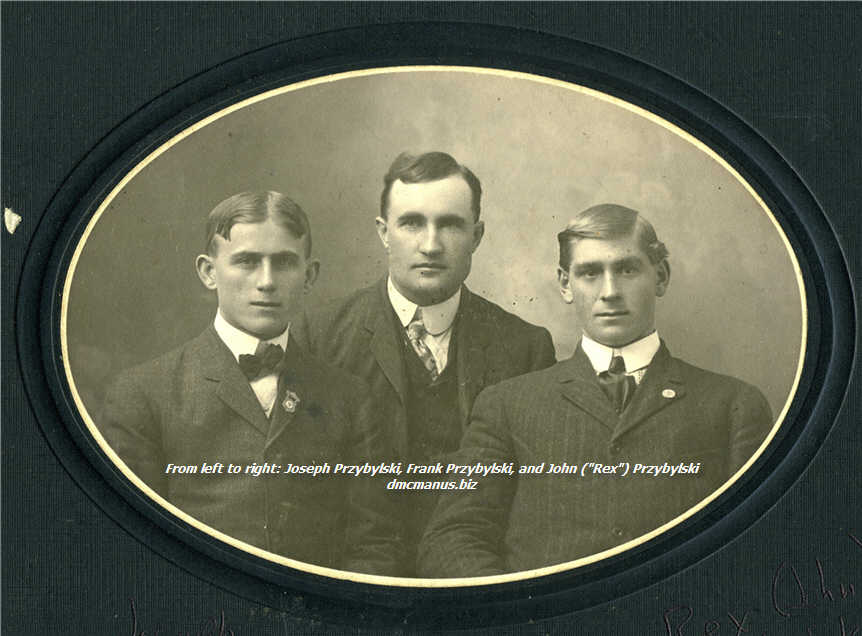 John married Hedwig Krzyzaniak on 20 June 1906 in St. Hedwig's parish. The 1910 US Census does place John and Hedwig in Detroit. John is employed as a molder for a stove works company and Hedwig was working from their home as a dressmaker. John was indicated as having been naturalized. Ironically, the address they were living at, 575 Beniteau Ave., is just a block from the Detroit River. The 1920 US Census indicates they were still living on Beniteau Ave., but John had changed his last name to Seblaski. What motivated him to change his name? Could it have been something to do with not wanting the Purple Gang to find him? I would think that is a possibility but still, there has never been any indication that John had any criminal activity in his background nor have I ever found any sort of legal case he would have been named in that involved a gang member. I did find a mention of John in the Detroit Times on 20 August 1913. He was noted in a list of City Council actions to be taken "for the vacation of a strip of land." Looks like he was involved in some transfer or a small piece of land to the city for a street opening.
I have been able to document John and Hedwig in the Detroit area as late as August 1925, when a notice was printed in The Times Herald of Port Huron announcing that "Mrs. John Seblaski, of Detroit, spent Sunday visiting friends in this city."
By June of 1927, John and Hedwig are in Miami, Florida. An article published in the Miami Daily News on 12 June 1927 detailed how John's dog, King, saved a man's life. A man who had drunk too much was driven to Biscayne Blvd. and passed out on railroad tracks while attempting to make his way home. John was out walking King, a doberman pinscher, in the evening and the dog sensed something was wrong, he jumped up on John's shoulders and barked to indicate a problem. The dog led John to the man passed out on the railroad tracks, aided by an FED railroad watchman. They dragged the man off of the tracks just minutes before a freight train came through. The article mentions that John owned a yacht, named the "Hedwig" that was moored nearby at Pier 4.

The 1931 US City Directories for Miami, Florida places John and Hedwig at 232 SW 38th Ct. in Miami, Florida. The directory doesn't provide an occupation or employer for either, but by February the following year, John is hitting the local newspapers with news about his fishing expeditions on the boat, the Hedwig.
Sometime shortly after that newspaper article, John and Hedwig returned to Toledo. Hedwig was diagnosed with ovarian cancer. Her death certificate states she was diagnosed by laparotomy in October 1932. She died at 133 Austin St., in her sister Rose's residence on 31 January 1933.
John returned to Miami and his fishing expedition business. He never remarried. And each new boat he purchased, was always named "Hedwig." There was the original Hedwig, and then Hedwig II and Hedwig III.
In 1937, the City Commission of Miami wanted to raise the docking charges for charter fishing boats and public vessels. This seemed to rouse some dissention with those who ran charter fishing businesses, which is what John had developed with the Hedwig. John was quoted in the Miami Tribune on 8 October 1932 that "…we can't charge the tourists more, and, at best, we have a three-month season."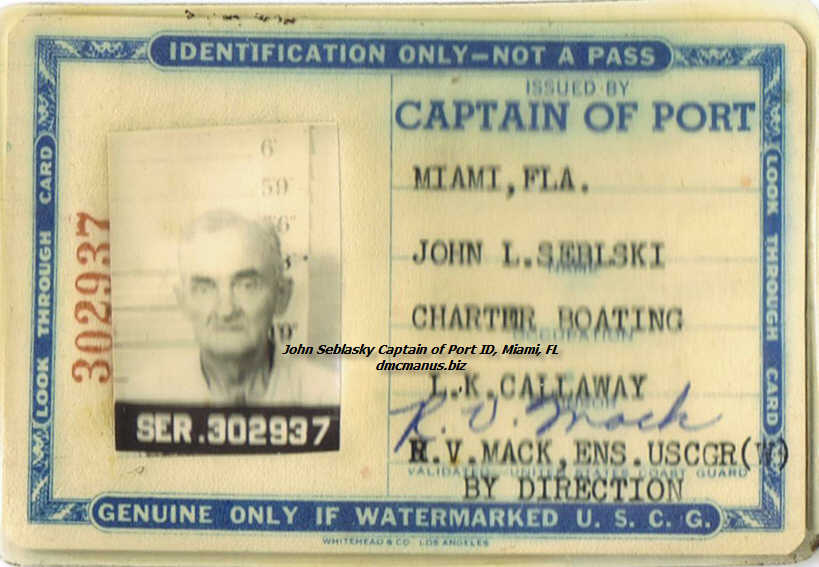 An article in the Miami News dated 17 August 1943, mentioned John's vessel, the Hedwig II pulling in three bonito, one wahoo, and one barracuda in a fishing expedition. While I haven't been able to pinpoint when John obtained the Hedwig II, there are two specific mentions of him with the Hedwig III, the first was 28 September 1943 where an article was published in the Miami News that states John had taken Army Air Corpsmen out on a fishing expedition that hauled in six dolphin, 17 tunas, a mackerel and a bonito on the Hedwig III. The second mention was in the Miami Daily News on 22 November 1945.
"…Capt. John Seblaski got himself a new boat, named the Hedwig III, after the one he so unfortunately lost…. He had a new Higgins on order, but because of the delay in deliveries, he decided to get the present one for the coming season… Looks good too!"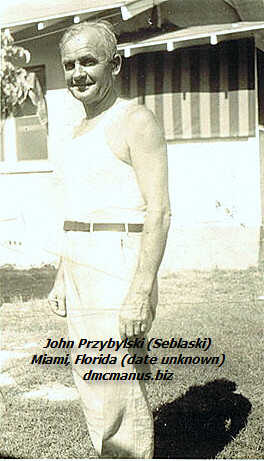 The 1945 Florida State Census brings up an interesting question. It does show John living in Miami, Dade County Florida, age 66, at 817 SW 15th Ave. His occupation is listed as Boat Captain. However, his place of birth is mentioned as Michigan. He was born in Redczyce, Kujawsko-Pomorskie, Poland and would have been the person providing the information to the census worker. So perhaps there is a reason? As if he were trying to evade some detection? It's all conjecture but it's small questions like this that do keep the possibility open that perhaps at some point, John did cross the path of members of the Purple Gang. Unfortunately, we'll probably never have a conclusive answer. But by all appearances, it seems John just led a quiet, industrious life initially with factory work and then in Florida as a charter boat captain leading fishing expeditions.
John died in Miami, Florida on 10 June 1950 and is buried at Miami Memorial Park.