Lawrence Rochowiak
Birth: 10 July 1844, Zydowo, Kujawasko-Pomorskie, Poland
Death: 4 June 1930
Relationship to me: Maternal Great Grand Uncle
Lawrence Rochowiak is the relative of mine who arrived the earliest in the US, in May 1871 as per the information he gave on his naturalization records. Born 10 July 1844 to Adalbert Rochowiak and Marianna Chlebowska, in Zydowo, Kujawasko-Pomorskie, Poland, he was the fifth child of six from this marriage, and one of 11 children in total of Adalbert. Adalbert was married three times, Marianna Chleblowska was his first marriage.
It looks as if out of 11 siblings, only three came to the US: Lawrence, his younger brother Martin, and their youngest sister, Frances, all settled in Toledo, Ohio. Most of the other siblings I have been able to determine spent their lives in Poland and died there.
Martin, Lawrence, and Frances were orphaned upon Adalbert's death and it seems as if the three remained together. Lawrence would have been just 21 at the time of his father's death, Martin about 15, and Frances just 13. Lawrence would have left Poland when Martin was 21 and Frances about 19. This would have been enough time to ensure Frances' ability to marry. She married in 1873.
The first hint that anyone in my family was here as early as 1871 came when I was browsing early marriage records from Sts. Peter & Paul parish. I found Lawrence marrying Rosalia Skomlowska on 4 May 1875. The record has a clerical error though. The bride's name was recorded as Rosalia Jasnizewski. I do not know whether Rosalia Sklomowska had been married previously, which is a possible reason for the name difference. However, we can be reasonably certain Lawrence's wife is the same person as the one on the marriage record because their son, Joseph, was born about a year later on 26 November 1876 and was baptized in St. Hedwig's parish. That timeframe can make it possible that Lawrence and Rosalia Skomlowska were NOT married in May 1875, that Lawrence was widowed briefly before marrying Rosalia Skomlowska. It's possible. But the chances of this being true? Likely very small. Joseph's baptismal record names Rosalia Skomlowska as his mother.
Lawrence arrived in Toledo just as Polish immigration to Toledo was increasing. Many early Poles in Toledo were from the Poznan region or the Kujawasko-Pomorskie region, in German controlled Poland, or Prussia. Many left in protest of Bismark's anti-Polish and anti-Catholic acts and "Kulturekampf"–Jesuit priests were thrown out of the region, Bismark publicly called Poles "pigs," and he called for civil marriages, declaring church marriages would be invalid–although the state had always accepted religious marriage as valid. So Poles left. Lawrence left at the early start of Bismark's "Kulturekampf".
Sister, Frances, arrived in Toledo with her husband Andrew about 1880. Brother Martin arrived in Toledo about 1888 with his wife, Catherine. The three families all settled in the Kuschwantz area. Lawrence on Nebraska Ave., Martin on Detroit Ave., and Frances on Vance St.
When Lawrence arrived, there were no Polish parishes in Toledo. Poles attended St. Mary's or Sts. Peter & Paul until the diocese of Cleveland (Toledo was under this jurisdiction until the early 1900s, then it became its own diocese) recognized the need to build St. Hedwig and a bit later, St. Anthony. Initially, there was an intent about 1874 when Fr. Vincent Lewandowski first came to Toledo that a parish would be centrally locate to unite the two developing Polish neighborhoods, Lagrinka and Kuschwantz by building a parish at Collingwood and Monroe. However, lots on Dexter St. were offered to Fr. Lewandowski and this made the split between the two neighborhoods permanent. A committee was formed shortly after the formation of St. Hedewig to establish a parish in the Kuschwantz area as the parish at Sts. Peter & Paul's on St. Clair Street was a far distance for Mass.
Lawrence submittal his Declaration of Intention to become a US citizen in October 1877. While I haven't found his naturalization papers, he did indicate on the 1900 census that he was Naturalized.
By 1881, Lawrence and Rosalia settled into a home at 1434 Nebraska Ave., not half a block from St. Anthony's Parish. They had nine children together, and seven children survived to adulthood. The eldest, Joseph, I have been unable to determine what happened to him after about 1895, when I located him in a city directory. Have not found a marriage or death record.
Rosalia died 15 July 1895 after an "illness of three weeks" per a State of Ohio death record. Within two weeks of her mother's passing, daughter Mary died on 30 July 1895. The deaths were announced in the Ameryka on 3 August 1895:
The Rochowiak family, whose wife died just a few weeks ago, experienced disaster again. His twelve-year-old daughter, Marya, passed the other evening. His son is also sick.1 We send our sorrowful father sincere words of sympathy.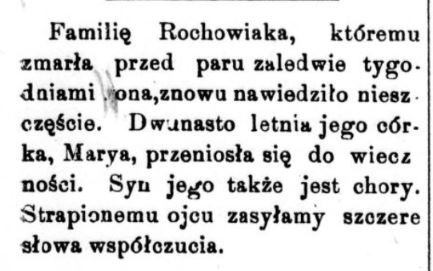 Lawrence married again on 7 June 1897 to Anna Ziemkiewicz in St. Anthony's parish. This marriage produced two children: Clara and Joseph Wladyslaw. They remained in the Nebraska Ave. home. By the time of the 1910 census, Lawrence was 68 years old and employed doing odd jobs. Anna was a laundress for a private family. Son, Anthony was 23 years old, single, and living at home, employed by a cemetery, most probably Calvary. Daughters Anna and Clara were still living at home as well.
Lawrence died on 4 June 1930, at the age of 81. He is buried with Anna in Calvary Cemetery.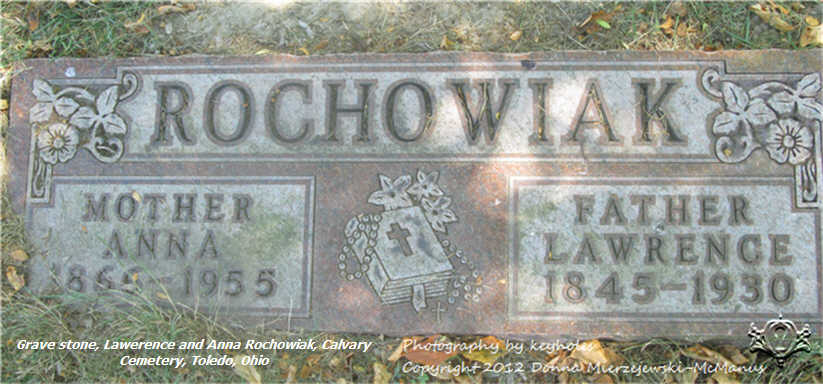 1 I am trying to research this angle to find out what did happen to Lawrence and Rose's son, Joseph. The article does not specify which son, and they had four sons.