Occupations of our Ancestors: Joseph Rochowiak, Toledo Patrolman
Joseph Rochowiak was the youngest child of Lawrence Rochowiak, the second child and first son born of his second marriage to Anna Ziemkiewicz. He was born 8 March 1901 and was married to Rose Blochowski on 3 September 1923.
Joseph was appointed as a patrolman for the Toledo Police Department as reported in the Toledo News Bee on 20 May 1927: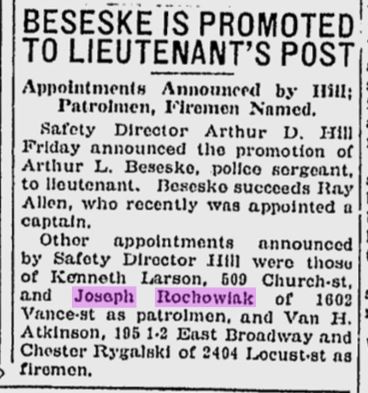 "Other safety appointments announced by Safety Director Hill were those of Kenneth Larson, 569 Church-st., and Joseph Rochowiak of 1602 Vance-st as patrolmen, and Van H. Atkinson, 195-1/2 East Broadway and Chester Rygalski of 2494 Locust-st as firemen."
In November 1928, Joseph was called to investigate a robbery with a blown safe at the Home Furniture Company. $20,000 in jewelry was stolen and an Army Store nearby was also vandalized. Joseph was called to the scene of the Army store to enter the premise with the proprietor to investigate. They found the door of the safe open and nearly everything missing.
Joseph had been involved in a number of raids and arrests connected to holdups and burglaries. In August 1929, he along with another patrolman named Joseph Bokan arrested a suspect in a holdup of two men in the area of the Nickel Plate railroad yards. The suspect was armed with a revolver. A few months later, in October 1929, Joseph was on a squad that raided a "resort" on Cherry and Ontario Streets and arrested seven women and two men.
In May of 1930, Joseph was involved in a vice and gambling raid in the 1500 block of Adams Street. Ethel Green was arrested as "keeper of a resort" and a Mary Smith was arrested also as a "keeping a resort." A total of 13 men and seven women were arrested in this raid.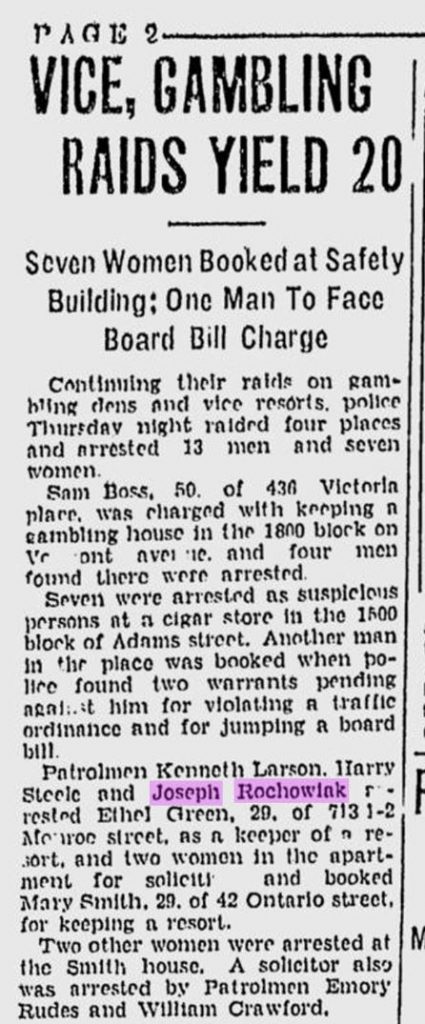 In September 1933, Joseph resigned from his position, in defense of a dismissal from the police department that arose from charges of "lack of energy and gross immorality." The Toledo News Bee reported that his wife and family lived at 919 Nebraska Avenue and that Joseph maintained another residence.
I cannot verify whether the couple of separating or divorcing at the time. However, Joseph died in 1936 in Detroit, Michigan of a ruptured appendix. The address on the Michigan Department of Health for Joseph was reported as 3433 Trumbull, Detroit, Michigan. It appears as if he had been ill for a few months, the physician reported on the death certificate that he attended the patient from 4 June until death on 25 October. He had surgery for the appendix on 18 October. His mother, Anna provided the information and her signature for the death certificate, so it's very likely the couple may have been separated. His death notice, published in the Toledo News Bee, did name his wife, Rose, as a survivor. Joseph is buried in Calvary Cemetery.