Frances (Franciszka) Rochowiak
Birth: 1 September 1852, Zydowo, Kujawsko-Pomorskie, Poland
Death: 12 May 1922, Toledo, Ohio
Relationship to me: Maternal Great-Grandmother
Frances was born 1 September 1852 in Zydowo, Kujawsko-Pomorskie, Poland to Adalbert (Wojceich) and Marianna Mazana. Adalbert was married three times, Marianna Mazana was his third wife. Her birth/baptismal record was located from the Catholic parish in Chomętowo.
Frances was orphaned fairly young. Her mother, Marianna, died on 13 December 1856, about a month after the death of her second child, Marianna. Frances would have been four years old at the time of her mother's death. Adalbert did not remarry after being widowed. Marianna's death record from the Chomętowo noted that Marianna left behind "1 liber" or one minor child, Frances.
Adalbert died 29 March 1865. Frances would have been 12 years old at the time of her father's death. Adalbert's death record from the parish in Chomętowo notes that Adalbert had three survivors: sons Martin and Lawrence (from a previous marriage) and Frances. 1
Why Adalbert's two sons were mentioned in the death record along with Frances is likely simple. Martin himself was still not of adult age when Adalbert died. He would have been just 15 years old. Neither he or Frances would have been old enough to establish themselves as local laborers or servants in nearby estates. Lawrence likely was an older sibling who remained in the village where his father was residing. At the time of his father's death, Lawrence would have been 21 years old and he was unmarried. Elder siblings were either just newly married or raising growing families. So it was likely up to Lawrence to care for Martin and Frances.
Frances married Andrew Przybylski on 12 October 1873 in Chomętowo. Their first four children, Marianna, Frank, John, and Rose were each born in Poland. Andrew came to the United States about May of 1880, and Frances likely followed soon after the birth of Rose in 1880. Rose was born in Dobrylewo, Kujawsko-Pomorskie, Poland on 16 June 1880.
While I have not yet found whether Andrew had any siblings or close relatives come to the US (he did have a nephew follow later on), Frances's brother, Lawrence did arrive in Toledo by 1875. Frances' brother, Martin, came to the US eight years later, in 1888, with his wife, Catherine Switała and their family.
Frances and Andrew would have another seven children after arriving in the US, for a total of 11 children. Nine children survived to adulthood. One of these children, Anastasia, would be my grandmother.
Andrew did not have a long life in the US, he died in 1894. Their youngest child would be a year old. She remained at their residence at 1637 Vance at least through 1920. The 1910 census shows her still at 1637 Vance with just two children still residing with her: Anastasia (who was just newly married to her first husband, Stanley Lawecki) and her youngest child, Eva. The 1920 census shows she was still at 1637 Vance with her youngest daughter Eva, who was now married to Stanley Hejnicki, and their son, Leonard. Her address given on her death certificate in 1922 was 1461 Avondale, the residence of her daughter, Victoria and her husband Frank Sieja.
An area of discussion that I've heard revolved around the possibility of Frances being an alcoholic. Reading her death certificate, it does state the cause of death as cirrhosis. I cannot say that she was or was not a heavy drinker. Her death certificate appears to code the cause of death as 122b, and the international codes for disease in place for 1920, does not state anything other than cirrhosis of the liver, not returned as alcoholic. A number of years ago, I obtained a photo of Frances sitting on a chair in what appeared to be a backyard. She very much looks as if she was suffering from aphasia or the after effects of a stroke–her mouth is a bit crooked/twisted and one eye is not fully open. The photo would have been one of an woman in her 60s. I cropped the photo in order to look at this detail a bit more closely. I do wonder if perhaps rather than alcoholism, she may have suffered from strokes? I've included the portrait here.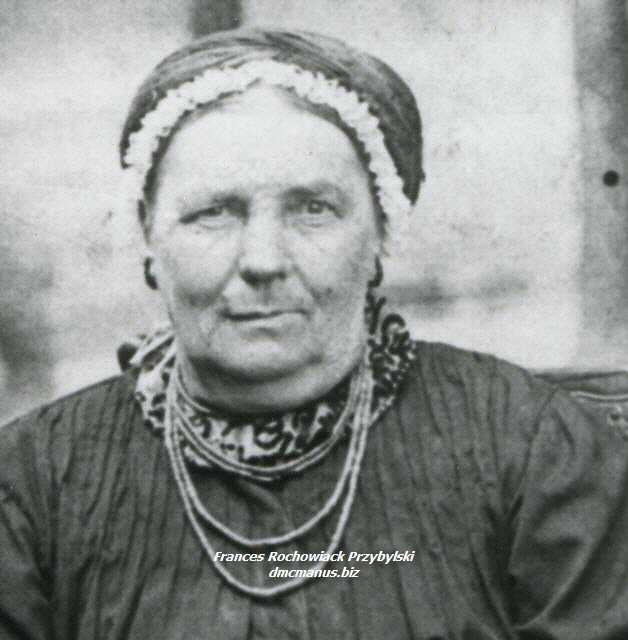 Frances died 12 May 1922 in Toledo, Ohio. She is not buried with her husband, but is buried in Section 2 of Calvary Cemetery. A humorous twist with Frances is it took me eight or nine years to determine her birth date. Every record I found, until I found her birth record, did not provide a clear indication of her birthdate. Her marriage record to Andrew was difficult to transcribe. Her age could have been interpreted as 16, 26, 21, or something completely different. (She did marry at 21.) Her death certificate places her age at 63, stating she was born 8 September 1859. The 1910 US census states she was born in 1856. The 1920 census states she was born 1852. The hunt for me to verify her birthdate was based on her death certificate. Had she been born in 1859, she would have married at 14! While it was not unheard of at that time in Poland for women to marry very young, it was not common. From what I've observed reading marriage records from the Poznan and Kujawasko-Pomorskie regions, women typically married about 20 to 25. Because she was orphaned completely as a teenager, it would have made some sense for her to marry young; however, I wanted to confirm whether she married as a young teen. But she did not. She was 21 at marriage.
The irony of this situation came to light when I located her gravestone. I verified the burial location and took a photo of her stone. I do not know why this date is so wrong, but it is. It states the year she was born was 1885. The closest I have to any sort of reason for the huge error in the birthdate was the information on her death certificate was given by her daughter Victoria's husband, Frank Sieja and something must have been miscommunicated because her birthdate is given as 1859 and her stone reads 1885, although her proven birthdate is 1852. I sometimes wondered if she were a vain woman, and didn't want to reveal her age! Note that her name is given in Polish, feminine form (Franciszka Przybylska). Matka means "Mother."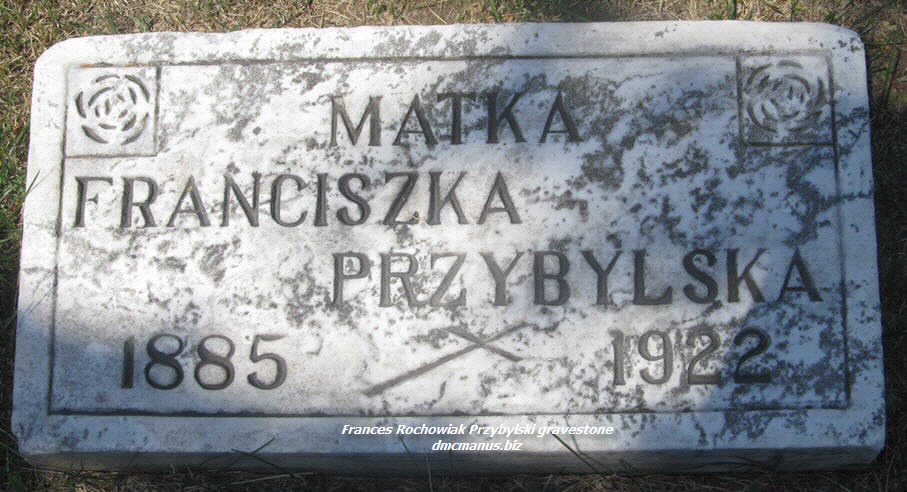 Footnote:
1 Adalbert did have additional children surviving him from his previous two marriages. They are just not noted in the death record.