Antoni A. Kujawa
Antoni Kujawa was born in Wajnowo in 1859, just north of Poznan, and arrived in the US in the mid-1870s. Antoni was an entrepreneur, and seemed to have established a relationship with A. A. Paryski from early on in his life in Toledo. Antoni was married to Katarzyna Holas and together they twelve children.
Antoni advertised heavily in the Ameryka and was supported politically by Paryski when he ran to become a jury judge in 1889. The Ameryka had an article covering his elected jury member on 21 December 1889:
We are very pleased with this choice, because Mr. Kujawa is one of the most influential citizens of our country and this office is well deserved. He has lived in Toledo for 16 years, and during this time he has become known as an unbiased and lenient man for errors, but severe for justice. He has been running a saloon for the past seven years and no one has had reason to complain about him.

He has always been an ardent nationalist1 and personal grudges have never been of any importance to him, so we are inexpressibly pleased that he is our juror.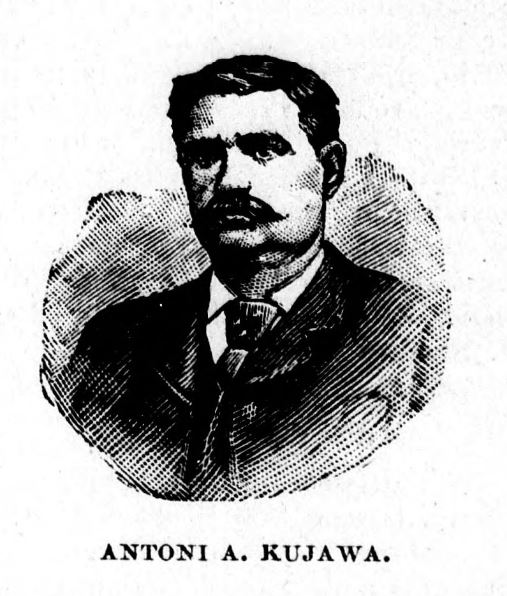 Antoni owned and operated a grocery and saloon at 1343 Vance and had advertised his grocery and saloon weekly in the Ameryka Echo. About the same time had gotten into the same business as Każmierz Czarnecki of selling Steamship Tickets so that immigrant Poles could go to Poland to visit. This was not an uncommon business in the Lagrinka or Kuschwantz neighborhoods–the advertisement below from Ameryka, dated 10 January 1891 also shows that Michael Brzeczka and A. A. Paryski both were in the same business.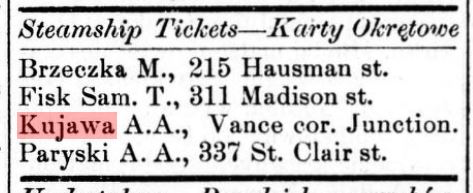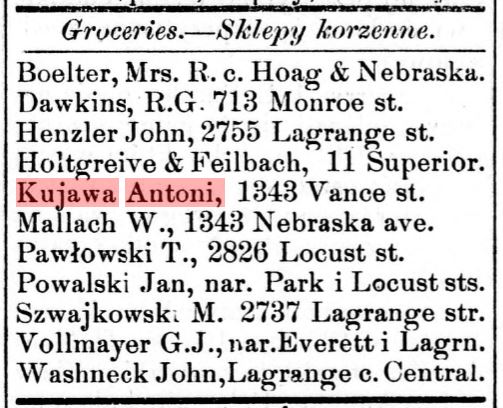 In addition to his grocery and saloon, judge appointment, and steamship ticket sales, Antoni was also appointed a public notary in the city of Toledo–he would notarize documents for Poles who could not speak English well or not at all.
Antoni, along with Fr. A.J. Suplicki of St. Anthony's parish and several other men in the parish, had formed a Polish-American political club. The intent of this club was to organize the neighborhood surrounding St. Anthony into a strong civic-minded area and develop leaders from parish. The first officers of this club were Antoni, Joseph Tafelski, Michael Tomczak, Frank Swiantek, Joseph Drella, Michael Zielinski, Ignatius Wilhelminski, Albert Czajkowski, Michael Golmbiewski, Peter Majewski, Joseph Bryzelak, George Olszak, John Henlinski, Paul Zielinski, and W.J. Lisiakowski.
Antoni died on 6 March 1939 and is buried in Calvary Cemetery.
1 "Nationalist" in this context mean that Mr. Kujawa supported Polish national independence. It does not refer to in any way about American nationalism or patriotism. What it does mean is he identified as a Polish national and was supportive of Poland's reunification and independence.