John Plenzler
Birth: 20 February, 1885, Toledo, Ohio
Death: 2 August 1936, Toledo, Ohio
Relationship to me: Grandfather
My grandfather, John Plenzler, was born 20 February 1885 to Joseph and Eva Dauer Plenzler and baptized 22 February. Godparents were Michael Mruk (husband of his aunt, Margaretha) and Catharina Falkenstein. He was the third child, third son, of 10 children in the family. John also was the first child born to Joseph and Eva in the US.
By the time of the 1900 census, he is noted as a day laborer, aged 15 and unemployed for four months.
On 4 August, 1908, John enlisted in the US Marines. A Descriptive Book that was used to record his service, indicates at the time he enlisted that he was employed as a street paver. John was stated at a number of ship yards and stations for the next four years, notably Honolulu, Hawaii, Mare Island, California, Philadelphia, and New Hampshire. I found this Descriptive Book interesting simply because I have never seen a picture of my grandfather. As far as I know, my mother never had one. The Descriptive Book provided a physical description of John: ruddy complexion, dark brown hair, light brown eyes, weight of 139 pounds, 67″ tall, with 20/20 vision in each eye. He also had a deformed small toe on his right side, a circular scar of about 1/2″ diameter on his anterior right arm and a mole on his chin.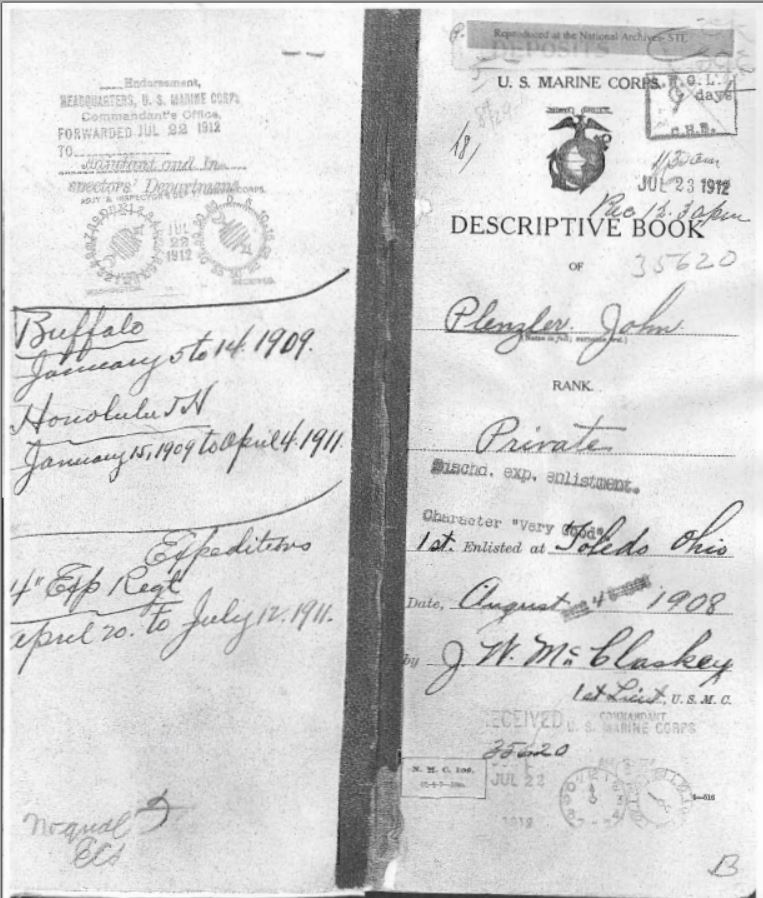 I am not certain why John decided to join the Marines at the age of 23. He was still living at home with his parents and employed as a street paver. It may have been an opportunity for him to earn better money or travel a bit. It seems his time in the Marines went fairly uneventfully until shortly before his discharge. On 6 April 1912, he was court martialed for being drunk and unfit for duty from liberty on 4 April. His sentence was to lose all pay for 18 days and to perform extra police duties for on month. Total pay lost was $10.68. Upon his discharge, it was noted that his character was "very good" instead of excellent because of court martial. He was not recommended for a good conduct medal.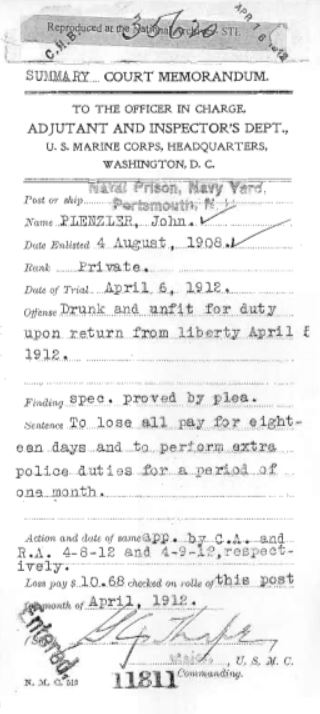 John returned home upon his discharge from the Marines in August of 1912. Later that year, he married Anastasia Przybylski on 4 November. The 1920 census shows that they were living at 722 Brown Street, he was employed as a factory foreman, and they had two children: Raymond (b. 1913) and Florence (b. 1915). They would have more more child, my mother, Virginia (b. 1926). John likely was employed at this time at Acklin Stamping on Dorr Street as his WWI draft registration indicated Acklin as his employer. At this time, jobs were starting to become plentiful as the automobile industry was starting to manufacture affordable cars. Acklin filled some of the needs of the auto industry (and other industries as well) as a "jobber" or what we'd probably call today as an outsource company and it employed a number of men from the Kuschwantz neighborhood building equipment and parts used in the auto industry.
The 1930 census notes John and Anastasia still living at 722 Brown St., with my mother, Virginia listed on this census. She was born in 1926. Their home is valued at $1800. The home no longer exists, but I did locate a photo of it from 1931 through Ohio Memory via the Toledo Lucas County Public Library. This photo from 1937 was taken by the Lucas County Auditor for tax assessment purposes. It's a typical house in the Kuschwantz–what was sometimes referred to as a "shotgun" house, a wood, rectangular home, with rooms arranged one behind the other and doors opposite each other at each end of the house. It was called "shotgun" because you literally could shoot a gun through the front door into the back door. The home is no longer standing.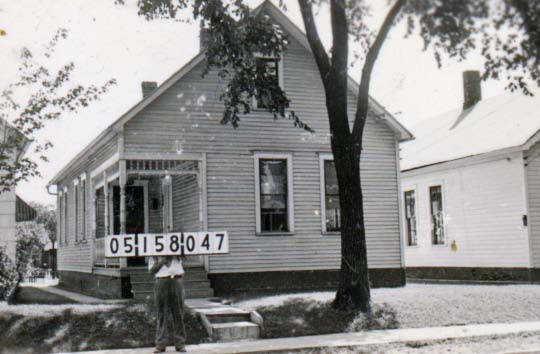 John did not live a long life. On 2 August 1936, he died of stomach cancer. He is buried in Calvary Cemetery, Section 32 next to his wife, Anastasia.