Joseph Plenzler
Birth: 21 February 1855 in Wiorek, Wielkopolskie, Poland
Death: 4 May 1910, Toledo, Ohio
Relationship to me: Maternal Great-Grandfather
Date of arrival: Manifest of the Grimsby (Amerika shipping line) shows he departed Hamburg on 13 April 1883. His Certificate of Intention to become an American citizen dated 28 February 1898 states he arrived in May of 1880.
Joseph was born to Joseph Plenzler and Mary Lisiecka in early 1855, the second son and fourth child in a family of ten children. At the time of his birth, Poland was not an independent nation but was partitioned among Germany, Austria, and Russia. The area that the Plenzler family lived, Wiorek is in the area of Poznań.
The region was settled by the Dutch. Dutch first appeared in the Eastern Prussia region about 1527. Known as Olęders, they were often involved in clearing land or farming. The Dutch were completely assimilated into the local populations by the mid-1800s, but that also meant that Wiorek had a slightly different status than neighboring villages. Wiorek was settled in 1754 by the Dutch. The inhabitants of this new village were "rented" immediately (they were employed in nearby estates by nobility) via an agreement in 1783.
A document housed in the Primary School of Czapury's archives details the duties of the Dutch inhabitants in Wiorek to the presbytery (in this context, a home, a rectory, where Roman Catholic priests resided). This document specified payment dates and the amounts of liabilities of the workers. A resident, Józef Blensier, was an innkeeper who was instructed to maintain stock of alcoholic beverages (beer and vodka) for the benefit of the Głuszyń presbytery and the Church was to receive an income from each 16 liters of alcohol that was sold. What is interesting and relevant to Joseph Plenzler in this history is in this document is a list of names who were party to this contract document. Several of these family names are tied to Joseph's family. Adalbert Lisiecki is Joseph's maternal grandfather. Eva Dauer (Joseph's wife) was related to the Aumillers, her mother was Marianna Aumiller. Several of these surnames are still found in the Toledo, Ohio area as well—Aumiller, Demel, Falkenstein.
Names that were listed as having witnessed this contract were:
Jakub Demel and Anna Walter (his wife)
Jan Aumiller
Jerzy Falkenstein
Andrzej Krych
Michał Koszyński
Bartlomeij Aumueller
Adalbert Lisiecki
Jan Demel
Józef Blensier
Józef Falkenstein
Wiorek was a small village—and it seems it produced many descendants. There are Toledo families that may be able to tied their ancestry to one or more of these surnames.
A memoir of Wiorek, written by Leokadia Ćwiklińska Ptak (1915 – 2009), a resident, recalls families with many of these named, plus additional ones that are scattered throughout my mother's paternal family tree: Plenzler, Remlein, Kujawa, Harke. Falkenstein, and others. In her memoir, Leokadia stated that when she was a child, the village only consisted of about 25 houses at the time as well as a shop and a village guesthouse. The village likely had not lost a lot of population between the late 1800s and the time of Leokadia's birth. Today, it only is home to about 735 people and is about 8.5 miles from the city of Poznań.
Joseph married Eva Dauer in Głuszyń on 8 November 1879 in St. Jakub the Apostle Church. This is the oldest preserved church in the Poznan Archdiocese, built between 1250 and 1280. Artifacts that are in this church that would have been in existence when Joseph and Eva married in 1879 include the main altar (which is estimated to be over 300 years old), sculptures of St. Casimir and St. Florian, and a baroque baptismal font. The church was not plastered in its interior until the 20th century.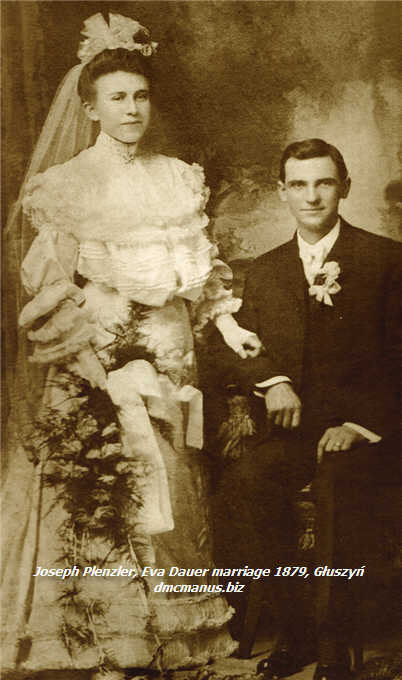 During Joseph's young adulthood, Bismark's Kulturkampf was the dominant political force. What Kulturekampf did for Poles was to drive them out of Prussia. Many of the policies of Kulturekampf were decidedly anti-Polish and directly confronted the Roman Catholic Church. This "culture struggle" was launched in 1871. In part, Kulturekampf was motivated by papal infallibility and the desire for Bismarck to control the influence and control of the Catholic Church. In May 1872, he attempted to reach an agreement with other European governments to manipulate future papal elections, that governments should agree on candidates ahead of time. This effort failed but Bismarck still acted harshly. In 1872, Jesuit priests were expelled and in 1873 anti-Catholic laws were enacted that granted the Prussian government to supervise the education of the Roman Catholic clergy. In 1875, civil ceremonies were required for wedding, whereas before Church marriages were recognized civilly.
Joseph and at least five of his siblings left for the US. Joseph and his brother John, each left within a week of each other in April 1883. Joseph is located on a manifest for the ship, Grimsby, of the Amerika line, traveling to New York in April 1883. No incoming document from Castle Garden has been found yet that shows his arrive on US soil. It would be an interesting thing to know how he came to Toledo and why. Near as I can tell, he would have no relatives or friends in the area.
Joseph settled in Toledo, his brother John settled first for a time in Wisconsin and then permanently settled in Middle River, Minnesota. Joseph's older sister, Margaretha left for Toledo with her husband Michael Mruk the following year. Three younger sisters, Catherine, Elizabeth, and Kunegunda, left for South Bend, Indiana between 1888 and 1893. There is some oral family history that noted that the sisters in South Bend did manage to remain in contact with the siblings in Toledo via mail and visits using trains.
After Joseph arrived in April 1883, he remained alone for about a year, likely to find work and a suitable home for his family. When he had left Poland, there were two sons born to the marriage: Martin in 1880 and Joseph in 1882. Eva arrived with the sons in May 1884 and they settled on Germania Street (now Avondale) in Toledo, originally as parishioners of St. Anthony and later St. Stanislaus.
After Joseph and Eva settled in Toledo, they had nine more children, seven of whom survived infancy. In total, Joseph and Eva had nine children who survived them: Martin (born in Poland), Joseph (born in Poland), John (my grandfather), Charles (Casper), Boleslaw (Robert), Mary, Frank, Sophia, and Leo.
Joseph was very active in his parish, St. Anthony's and was a member of the St. Dominic's Society within St. Anthony's parish. This was a group that was dedicated to assisting parishioners and to explore their Catholic tradition through the arts, liturgy, and writings of the saints. Additionally, he was involved in the planning and building of the "new" church that replaced the original temporary wood frame structure. A letter addressed to the Editor of Ameryka was published in the Ameryka on 12 July 1890 reporting on the progress of the church plans. The letter is roughly translated below.
To the Editor, Ameryka:
The construction of the church in the parish of St. Anthony is reporting its business for the month.
The church will be 158 feet long, 80 degrees wide, 60 degrees high, windows 30 feet high, and 6 degrees wide, pillars 5 feet thick, tower 158 feet high, clock face 7 feet; four towers on each corner 30 feet high.
The foundation will be of the best hard stone. The entire church will be brick and will cost $50,000. The committee for the construction of the church consists of the following members: W. Lisiakowski, A. Iganasiak, K. Mosianiak, J. Plencner1, V. Mallach and F. Kopydłowski.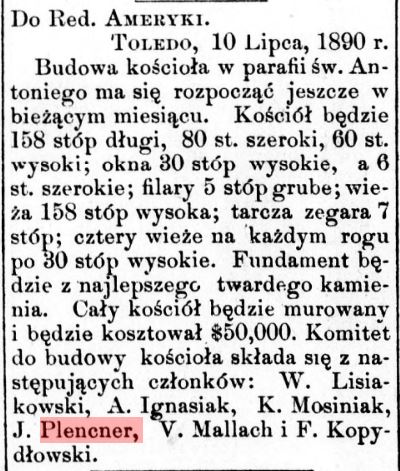 On 22 September 1891, Casimir Czarnecki as Grand Marshal and Joseph Plencner and M. Zielinski as assistance, a cornerstone for the permanent church of St. Anthony's was laid and blessed by Monsignor M. E. Boff of Cleveland.
Below is a partial report of the Society of St. Dominic placed in the Ameryka on 24 January 1890:
Society of St. Dominic
On Sunday, January 19, at the parish of St. Anthony, there was an annual meeting of the Society of. St. Dominic. The following officials were elected:
Michael Gawronski, President.
Josh. Krzewinski, Vice-president
Ant. Rywalski, Secretary, protocol.
Jan Kachelek, Secretary, financial.
Josh. Brezelak, Cashier.
Jan Okonski and Joz. Kujawa, Record keepers
Joz. Plencner, 1st Sergeant at arms
Feliks Gasiorowski, 2nd Sergeant at arms.
Jan Wolowski, Director, Sick committee (those who would visit the sick or send cards or assistance).
A. Wielgoszynski, Tom. Jankowski, B. Chmielewski, Jak. Brzykcy, Caregivers, Sick committee.
J. Blowchowski, M. Redman, J. Tomas, J. Grycza, J. Baranek, Fr. Urbanski, Bearers of the Church banner.
W. Zielinski, A. Zielinski, Bearers of the Polish flag.
W. Jankowiwski, Jan Okonski, Bearers of the American flag.
The report went on to provide the society's fundraising efforts for 1889.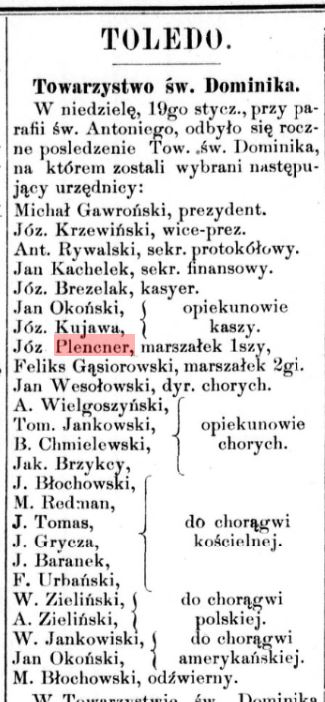 Joseph completed his Declaration of Intention to become an American citizen in February 1889. The document states he arrived in the United States in May of 1880, but that is questionable. His wife, Eva, would have been expecting their first child, Martin (born in October that year) and the Hamburg manifest exists. Typically, I've noticed that immigrants during this period did not travel between Europe and the US multiple times. (Although in later years, say after 1900, I have seen this happen several times.) Joseph finally received his naturalization on 3 March 1909.
The Polk City Directory for Toledo ion 1889-1890 shows Joseph was a mason (stoneworker). The 1900 and 1910 census data shows that Joseph was employed as a plasterer.
Joseph was found in a Toledo State Hospital Biennial Report for the year ending in 1908. He was paid for labor provided in February and March 1908, a total sum of $132. Calculating for inflation in 2022, this sum would have been $4,070.71 today. The average inflation rate since 1908 has been approximately 3.01%.
Joseph died on 4 May 1910, due to pneumonia. He is buried in Calvary Cemetery, next to his wife in Section 8.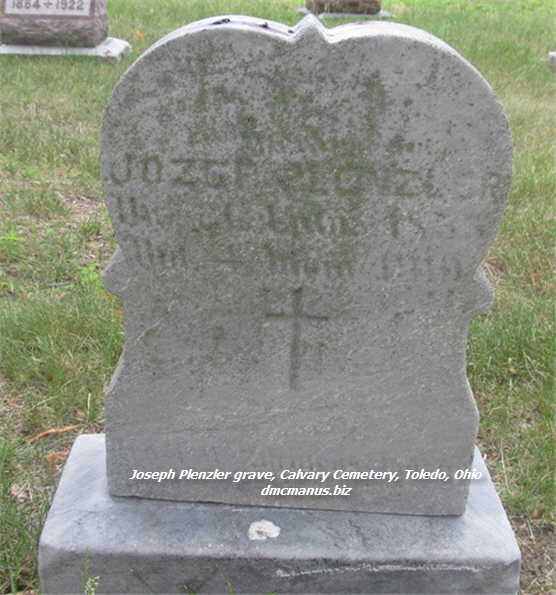 1 The surname, Plenzler, is often spelled Plencner. Parish records from the Gluszyna parish or civil records from the State Archives in Poznan will reflect either spelling. Joseph had a brother, John, who emigrated to the US and settled in Minnesota. John maintained the Plencner spelling. This might be due to the German influence in Poznan. I am unsure which is the Polish spelling and which is the German. For the sake of consistency in this story, I am using the Plencner spelling; however, do understand the names Plenzler and Plencner are the same.