Carl Walinski, the Pig Iron Gang and Buckeye Beer
Many Toledoans are probably familiar with the Walinski name, the legal and political family that produced lawyers and judges. The name has been associated with Lucas County and US District Courts for over a century.
However, there was a Walinski who forged a completely different life than that of a legal eagle, Carl "Bucky" Walinski. Carl was born to Adam and Eva Tadych in 1910 in Berea, Ohio (near Cleveland). Shortly after Carl's birth, the family moved to Toledo, initially settling on Ray St., near a metals plant. The family would eventually move on to Auburn Ave., but Carl spent part of his childhood on Ray St. A group of about 50 boys from the area formed a gang they called the "Pig Iron Gang," appropriately named because of the metal stamping plant in the neighborhood. Pig iron is crude iron, a product of smelting iron ore. It is eventually refined to produce steel or wrought iron. The gang was just a sociable group, per an interview with Carl in 1975.1 However, He stated that the boys gambled, and played dice. Carl would be on the lookout for priests, to keep the boys out of trouble.
Carl, who was also known as Bucky or Ducky, was probably classified as a dwarf. As an adult, he stood only 51″ to 52″ inches tall. He came from a poor family but he stated to have only been out of work six weeks in his life, even being employed during the Great Depression. His height was a challenge but he overcame. His height may have contributed somewhat to his fame. Carl worked with the Toledo Mud Hens from 1925 to 1930 when Casey Stengel managed the Mud Hens and he gained some fame as a marketer or promoter for Buckeye Beer. He later settled down to be a bartender in several establishments in Toledo.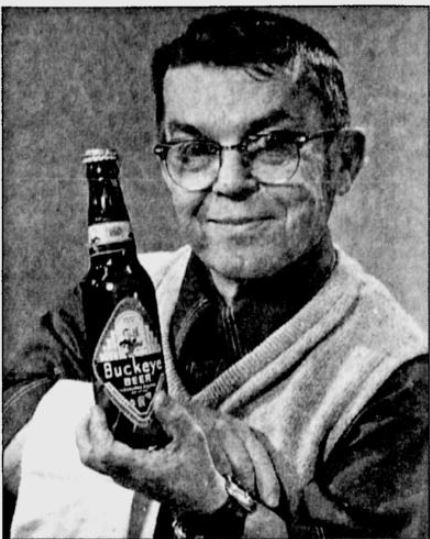 While employed with the Mud Hens, Carl earned the name "Ducky" for his walk, which was a duck-like waddle. He cleaned cleats, 50 pair for each game, 25 for the home team and 25 for the visiting team. He payment was in baseballs. He then sold the baseballs for ten cents each. Eventually the Mud Hens increased his pay to 25 cents a game plus tips from the players. The players would have him run to the original Red Wells restaurant on Monroe street, near Swayne Field, where the Mud Hens originally played.
Carl left the Mud Hens sometime around 1929 and began to bartend. He worked at a saloon in the neighborhood his family was living called the Green Lite Inn. This is where Carl's life took a turn toward a bit of fame.
When Prohibition was repealed in the 1930s, Buckeye Beer — a company that had been in business since the mid-1800s and during Prohibition remained afloat by producing "near beer" and soda pop — wanted to stage a new marketing campaign and image. A cartoonist came up with a figure of a waiter, a man with a large head and small body, carrying trays of beer glasses. This figure had a smile and a wink and was drawn to appear to have a quick, energetic step. Buckeye Beer named this figure "Bucky." When Carl was tending bar at the Green Lite about 1935 or 1936, a Buckeye Beer executive walked into the saloon and discovered Carl, impressed with how closely he looked like the Bucky character. Carl signed a contract with Buckeye Beer to do promotions for the brewery.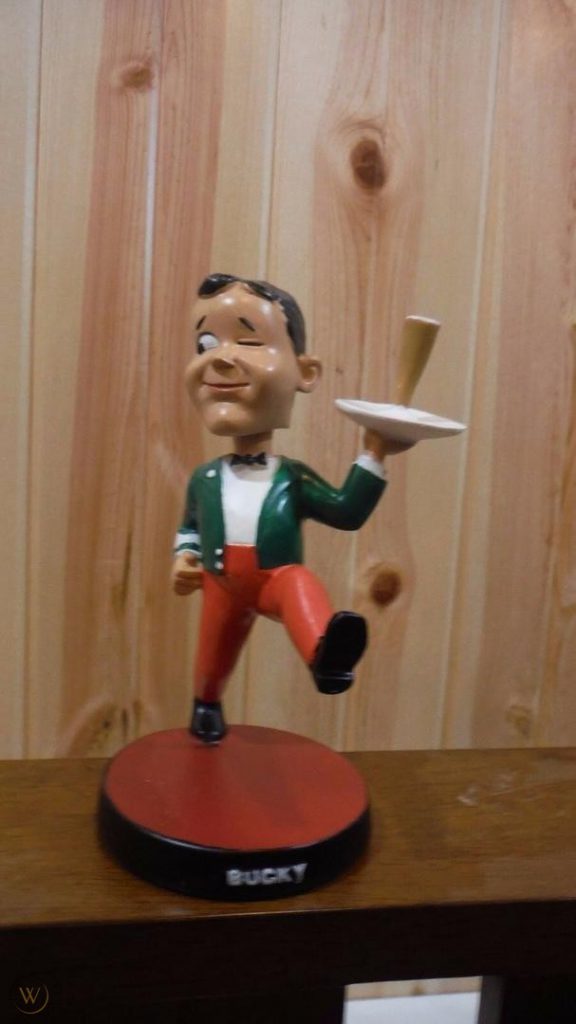 Carl was was able to roller skate and part of the promotional work he did was to skate through town for promotional events into bars while holding a tray of Buckeye Beer. People would be fascinated that the tray never tipped, no glass or bottle ever broken. Carl had worn gloves during these events. The tray would be glued to the glove. The bottles were then glued to the tray. Children follow him as he skated, fascinated that not a single bottle fell off the tray.
Unfortunately for Carl, skating into bars made his work difficult toward the end of the day. He'd skate into a bar, greet the customers and roll out. Customers would buy him a beer. After several bars, he found it difficult to stay on his feet and finish the route.
Buckeye Beer created an entire persona and story around Bucky. He was given a "wife" who was 3′ 6″ tall named Bonny. Though they were not married in real life, the two appeared together for promotional events driving a beer truck that was reduced to scale.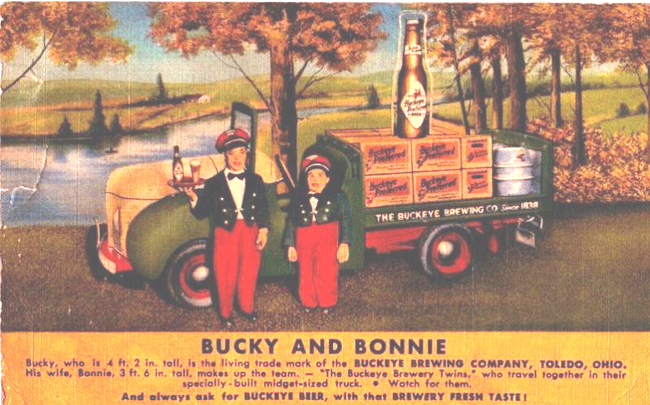 To promote their bock beer, Buckeye created advertisements of Bucky with a goat who was pulling a miniature chariot. Buckeye Beer also had some creative math behind Bucky's adventures. There were claims that the goat pulled Bucky 10,000 miles. Buckeye Beer also claimed that Bucky skated over 30,000 miles.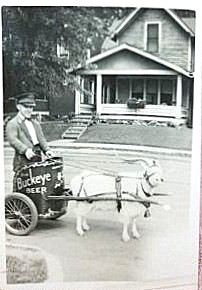 When Carl took on the job with Buckeye Beer in 1936, he was given $21 per week. Carl asked for a raised in 1942. By then, Bucky had become quite well known through Toledo. Buckeye Beer refused the raise and Carl left and quickly went back to tending bar for the rest of his working life.
In 1978, Carl moved into the Sacred Heart Home. He was still well known in the city at this time and people would visit him and he'd give autographs and have his picture taken with visitors. In 1982, he was part of a delegation from the Sacred Heart Home that traveled to France for the beatification of Sister Mary of the Cross, L.S.P (Jeanne Jugan), who was the foundress of the Little Sisters of the Poor.
Carl was also a collector of autographed baseballs and celebrity photos. He had in his possession signatures of Mae West, Boris Karloff, Ty Cobb, and Joe Lewis.
Carl passed away on 3 February 2002.
1 The full interview, conducted in 1975 by the Toledo Lucas County Public Library, Local History & Genealogy, is available here: https://www.ohiomemory.org/digital/collection/p16007coll33/id/76911/rec/37