Junction Civic Club
A number of years ago, I was given the pleasure of receiving a photo from Fr. John Extejt, whose family also came from the Kuschwantz neighborhood.
The photo was taken at a dinner given in the honor of Nicholas J. Walinski, Sr. (1889 – 1948). Nicholas was the father of the Polish-American legal family whose name has been well known in Lucas County for over 100 years.
Nicholas, Sr. was born in Berea, Ohio and after obtaining his law degree at the Cleveland Law School, moved to Toledo in 1908 and became the second Polish lawyer in Toledo. He spoke Polish when he set up his law practice in order to better serve those he served. Nicholas had two sons: Thaddeus (Ted) who became vice mayor of Toledo (serving under John Potter) and became a Toledo Municipal Court judge and Nicholas, Jr. who became an assistant Toledo city law director and a judge in the Toledo Municipal Court, Lucas County Common Pleas Court, and US District Court. Nicholas, Sr. maintained a private practice until 1948.
On 5 January 1939, a dinner was given to honor Nicholas, Sr. by the Junction Ave. Civic Club. It took place above the J&K Drug Store at the corner of Junction and Nebraska avenues and was made up of neighborhood politicians, probably Republicans. Fr. Extejt's mother, Gertrude Rejent Extejt, recorded the names of the attendees:
Seated, from left to right: Phil Malikowski, Ed Wawrzyniak, unknown, John Sabin (Sabiniewicz), Ollie Orzchechowski, Charlie Czolgosz, Leo Czarnecki, Nick Walinski Sr., Dr. John Pietrykowski Sr., C.S. Rejent, Siegfried Putz, Frank Czolgosz, and Ignatius (Jim) Regent.
Standing, from left to right: Bob Slomowicz, ? Kazczmarek, John Osmialowski, Anthony Przybyla, Steve Putz, Dr. Leo Rejent, Dr. ? Jagdozinski, Frank Klap, Dr. A. J. Rejent, Louis Czajkowski, Leo Figmaka, John Davis, Robert Konwin, Dr. ? Beasecker.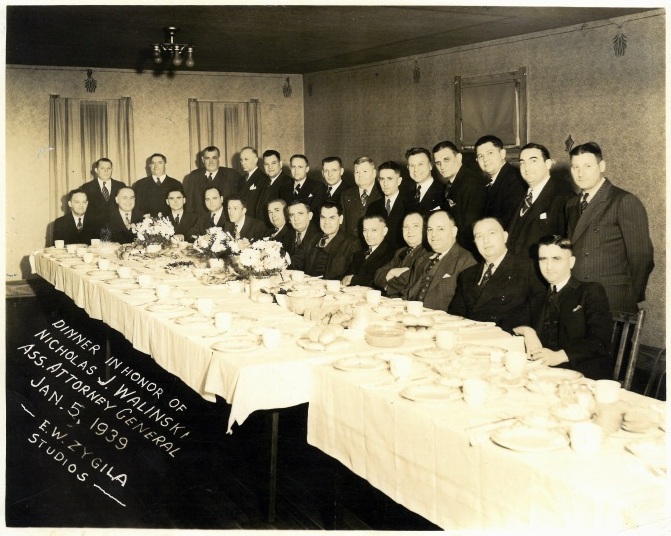 The photo was taking by Zygila Studios. This photography studio was well-known in Toledo during the 1930s and had two locations: one in Kuschwantz on Nebraska Ave. and another in Lagrinka on Lagrange Ave. The business and operated by Katherine (Perzynski) and Edward Zygila and was in demand for portraits and large group shots.