Wacław Gawroński
Wacław Gawroński was a resident of Toledo starting sometime after 1940 until 1961. While living in Toledo, he was the publisher and editor-in-chief of the Ameryka-Echo. He also founded the Toledo Polish Arts Club during his residency in Toledo. His first wife was Zofia Poplawska, his second wife was Halina Wolff.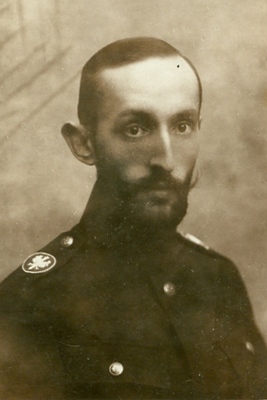 Wacław was the son of Teodor and Jadwiga Rawów, born in St. Petersburg, Russia 3 March 1893. He obtained two law degrees: from the University of Kazan (Russia) and the King John Casimir Unviersity in Lwow, Poland (today, Lviv, Ukraine). He was in service to the Republic of Poland as Consul General in
Lille from 1924 to 1928
Berlin from 1930 to 1934
Chicago from 1935 to 1939
Wacław took the diplomatic role in Chicago starting 1 April 1935, leasing the home of a former banker on Lake Shore Drive.
In 1939, Wacław requested and was granted a leave of absence from his duties as Consul General. By 1940, he had become the editor of Wiadomści Codzienne (Daily News) in Cleveland. In March 1939, Wacław decorated Miss Elma Pratt of Sandusky with the Gold Cross of Merit of the Polish Government in a ceremony held in Chicago for the Women's Civic Club in Chicago and was sponsored by the Polish Art Club. This was the highest award given by the Polish government to non-citizens. Elma was awarded this medal as the founder and director of the International School of Art. She became interested in Poland in 1925 while seeking peasant art in European countries. She then established the first summer school in Poland in 1928 that attracted outstanding American artists and students. She wished to exhibit examples of Polish art and culture in the US and had exhibitions that toured this country.
Sometime in the 1940s, Wacław moved to Toledo to assist with the publishing company of A. A. Paryski and the Amerika-Echo. By this time, A. A. Paryski's son, Tadeusz and his daughter, Halina were running the publishing company. Halina held the majority of shares in the company. The siblings were looking for a way to divest themselves of the newspaper because it was no longer bringing in any profits and Halina had conflicts with the weekly editorial board. Additionally, the income for the Paryski family mainly came from printing jobs and the newspaper was a financial drain. Wacław and Tadeusz attempt to merge the Ameryka-Echo with Detroit's Dziennick Polski newspaper, but failed. In 1956, Wacław, Marian Wojciechowski and J. Szczęsny Leśniewicz formed a corporation which purchased the Ameryka-Echo, with an agreement with the Paryski Publishing Company to maintain facilities for the editorial office and supply the printing services.
By 1961, Wacław left the Ameryka-Echo to return to Chicago. He died in Chicago 27 March 1979. His obituary was published in the Toledo Blade and reads:
Waclaw Gawronski
Ameryka-Echo Editor, Former Polish Consul
Wacław M. Gawroński , 86, of Chicago, formerly of the 2700 block of Collingwood Boulevard, retired Polish language journalist and former Polish consul, died Tuesday in a Chicago hospital.
Mr. Gawroński was president and editor-in-chief of the Ameryka-Echo in Toledo in the late 1950s.
He moved to Chicago in 1961 after the newspaper, then considered one of the foremost foreign-language publication in America, ceased publication here.
He was also a writer for Polish-language newspapers in Chicago, Cleveland, and Detroit, and was founder of the Polish Arts Club of Toledo.
He held a doctor of law degree from the King John Casimer University, Lwow, Poland.
Mr. Gawroński was consul of the Republic of Poland in France and consul general in Berlin and Chicago before moving to Toledo in 1939.
His wife, Halina, survives.
Services will be at 10 a.m. Thursday in St. Stanislaus Church, Toledo.
There will be no visitation.
The family requests that any tributes be in the form of contributions to the Heart Association.
###
Wacław is buried in Calvary Cemetery next to his first wife, Zofia. The stone had never been updated to reflect Wacław's death.