Eva Dauer
Birth: 23 December 1857, Czapury, Wielkopolskie, Poland
Death: 20 October 1914, Toledo, Ohio
Relationship to me: Great-Grandmother
Date of arrival: 6 May 1884
Eva Dauer was born to Andreas Dauer and Marianna Aumiller on 23 December 1857. She was the second of five children born to Andreas and Marianna, the eldest daughter. Her father, Andreas was married three times, and had a total of 12 children. Marianna Aumiller was his third and final marriage.
Czapury is a small village near Poznań. It was settled sometime near the end of the 14th century and was used as a location by the Red Army to outflank Poznań from the south during World War II–the Battle of Poznań eliminated the Germans from the city. Current population is probably a bit over 1,000.
Eva's parents each died while she was still quite young. Her mother died in 1866, when she was just nine; her father died in 1871 when she was just 14. So it is quite likely she went to live with an older half sibling (possibly half-sisters, Barbara or Margaretha) or she went to live with godparents, Jan Niklaus or Catharina Krych.
Eva married Joseph Plenzler on 8 November 1879 in Głuszyń in St. Jakub the Apostle Church. This is the oldest preserved church in the Poznan Archdiocese, built between 1250 and 1280. Artifacts that are in this church that would have been in existence when Joseph and Eva married in 1879 include the main altar (which is estimated to be over 300 years old), sculptures of St. Casimir and St. Florian, and a baroque baptismal font. The church was not plastered in its interior until the 20th century.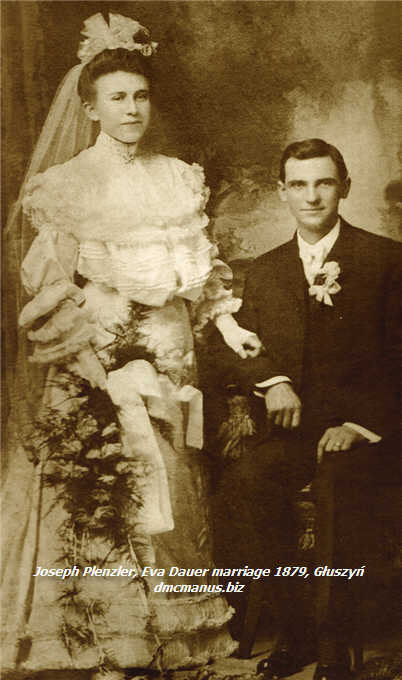 Joseph and Eva had two sons before leaving Poland for the US, Martin (b. 1880) and Joseph (b. 1882). Joseph had left Poland for the US in April 1883. Eva arrived in the US with both sons in May 1884. After settling in Toledo, they had nine more children, seven of whom survived infancy. In total, Joseph and Eva had nine children survive them: Martin (born in Poland), Joseph (born in Poland), John (my grandfather), Charles (Casper), Boleslaw (Robert), Mary, Frank, Sophia, and Leo.
Eva did become a citizen through her husband's naturalization. Before 1919, women were not required to naturalize but gained citizenship when their husband's attained it. This was due to the simple fact women could not vote. So there are no naturalization records for women immigrants during this period.
The Plenzler family settled on Germania Street (later renamed Avondale) and were initially parishioners of St. Anthony and later of St. Stanislaus.
Joseph died on 4 May 1910, Eva died on 20 October 1914. They are buried together in Calvary Cemetery, Section 8.