Grand Trunk In-Bound Train Crash, Detroit 1903
A great tragedy occurred for many of Toledo's Polish communities on 3 May 1904. A large group of Poles from the Toledo area were on an excursion to the City of Detroit to attend a festival at St. Joseph's parish. The size of the group has been reported differently in several publications, so I am not sure how large of a group it was. St. Anthony's Diamond (75th) Jubilee book mentioned "over 500" while the Detroit Free Press just states "hundreds" and The Chicago Tribune states "1500 Poles from Toledo came to Detroit." A Lake Shore passenger train had been scheduled from Toledo to take those attending the festival to Detroit and return them home that evening.
This trip was sponsored by the Knights of St. Casimer and many Poles from St. Anthony's and St. Hedwig's joined this pilgrimage. The trip was to attend a festival at St. Joseph's parish in Detroit. In order to accommodate the large number of travelers, they were to gather for return trip home at the corner of Canfield and Dequinder Streets. This was not a regular station nor was it a regular stopping point, but was one that was planned specifically for this event. The travelers preferred to walk from St. Joseph's church rather than go to downtown Detroit to the depot. Lake Shore railroad officials agreed to make a stop at Canfield and Dequinder for the return trip to Toledo.
Departure was scheduled for around 8pm, and a band was present to entertain the parting visitors. However, per the Detroit Free Press, the return train to Toledo was late, otherwise it would have pulled out in time before an incoming Chicago train would be coming through. The train seemed to have arrived on time and many of the travelers ran down the track to secure seats in the rear coaches. As the crowd attempted to approach the train, a Grand Trunk in-bound train crashed through the crowd. Per the Detroit Free Press on 4 May 1903, the incident happened unexpectedly and quickly. There were no whistles or warnings. The engine struck its first victims directly on the crossing and plowed along for approximately a hundred feet. It was estimated the train was traveling at approximately 12-15 miles per hour. The Grand Trunk engineer, Thomas Hart, was able to stop the train at that point. But it was only after many were killed or severely injured, strewn across the tracks or tossed under the train.
Four people from Toledo were immediately reported as dead, and the Ameryka Echo reported that by Wednesday, a total of nine had died as a result of the accident and others were hospitalized in Detroit in critical or serious condition. When the travelers who were not killed or injured recovered their senses long enough to realize what had just happened, they began to shout "get the engineer, kill him." Emotions were running high. Police had to remove Hart from the scene for protection from violence
Local hospital ambulances and Detroit police were called to the scene. Ambulances from Harper's, Grace, and St. Mary's Hospital, as well as Red Cross ambulances, attended the victims and transported the dead to local morgues and the severely injured to hospitals. Dr. W. K. Kwiecinski of Detroit was on the scene to perform triage and give first aid to the injured. Another man, A.J. Niklewskey, who resided on Canfield, witnessed the crowd boarding and the Grand Trunk train crash through the crowd, assisted with the injured and stated that there was no whistle blown to warn the travelers.
In the rush to get the seriously wounded to hospitals, two Grace hospital ambulances collided.
What seemed to be the cause of this horrible accident was that the stopping point at Canfield and Dequinder was not a regular station or stopping point for incoming passenger trains. The engineer of the inbound train from Chicago did not receive notice of the situation and had no signal to warn him to stop. Hart stated that
"when we neared Canfield avenue, I noticed the headlight of the Lake Shore train standing at Canfield Avenue, but as this is a common occurrence, I paid no attention to it. The light from the other engine was shining in my eyes and it was impossible for me to see the crowd on the track until I passed the other engine."
The Detroit Free Press later published on 7 May 1903 that officials of the the Lake Shore road had a duty to protect their passengers. Fences were lacking between the tracks and no forethought was given to signaling incoming or approaching trains.
Fr. A. J. Suplicki, pastor of St. Anthony's parish, issued a warning to the Toledo News Bee to direct lawyers to not pursue claims for damages. Rather, Fr. Suplicki wished for no court cases on the grounds of this catastrophe, and that the Grand Trunk Railway and its agent were to bear the cost of all funeral and hospital costs for the injured. 1
An inquest was held into the tragedy by Coroner Hoffman from Detroit. Attorneys from Toledo attended as well as Mayor Jones of Toledo. Dr. P. G. Sanderson of Detroit was to testify concerning Anthony Popek's death, one of the Toledoans killed in the accident. Mayor Jones also took Vincent Pawlaczyk and Michael Broski, both hospitalized in Detroit with injuries, back home to Toledo.
Toledo Poles who had died as a result of this accident were:
Stanislaus Orzechowski
Frank Orzechowski
Walter Ludwik
Frank Rozinski and wife
Helen Palecka
Anthony Popek
Walter Sobieralski
Frank Jablonski
Those who were injured included:
Joseph Szaroleta
Orzechowski child
Michael Brocki
Joseph Szafranski
John Malkowski
Helen Rodiewicz
Rose Adamska
Frances Otremba
Salomea Witkowski
John Krynski
Vincent Pawlaczyk
Peter Orzechowski and wife
Joseph Wozniak
Joseph Nytz
Joseph Kazinski
Joseph Picard
Anna Urbajtis
Joseph Zakrzewski
Chester Palicki
Stanislaus Sarnowski
The Toledo News Bee published a few photos of the victims. The photos are poor reproductions but perhaps someone researching their families may find them useful.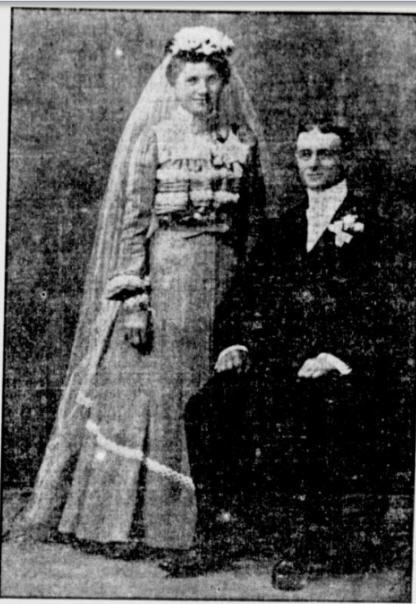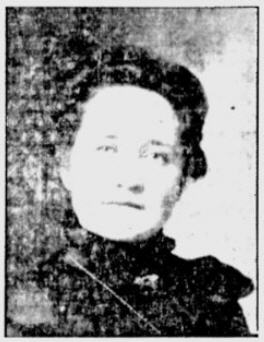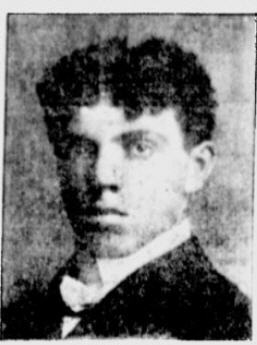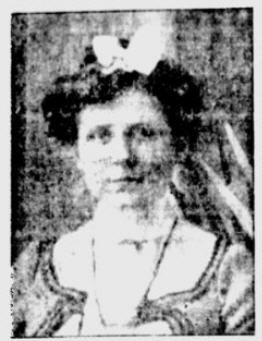 1 If you've read a few other posts on this website, you'll notice I've mentioned A. A. Paryski several times. He was a leader in the Polish American community of Toledo as a newspaper publisher and printer. Paryski was known for being rather outspoken. In the Ameryka Echo on 9 May 1903, Paryski injected questions about Fr. Suplicki's actions–Paryski asked "Does it respect the dignity of a chaplain to engage in non-clergy? Is a matter of honor to enter into an alliance with the stronger?" Fr. Suplicki was known for civic engagement and encouraged such within this parish. I have found nothing to explain the reasons that drove Fr. Suplicki to intervene in this matter, but perhaps it was to get immediate relief to the victims–lawsuits take considerable time to resolve, the lawyers would have taken a good part of any monies awarded, meanwhile families had the immediate need to bury their dead and pay for hospitalization costs for the severely injured.