A Murder, an Escape Artist, and Whatever Happened to Michael Soboleski?
Michael Sobolewski was a tailor born in Galacia on 17 July 1875, arriving in the United States in November 1899. He submitted his petition for naturalization on 15 December 1908 and was living on Norwood Ave. with his wife, Pelagia (Pauline) Kaminski and two children who were both born in Toledo. It appears he had a few tailor shops in Toledo. About 1905, he was advertising himself in the Toledo Business Directory as a Ladies' Tailor and provided an address of 1520 Collingwood Ave. He was convicted of the murders of Ludwig and Augusta Krueger in 1909 and sentence to life in prison.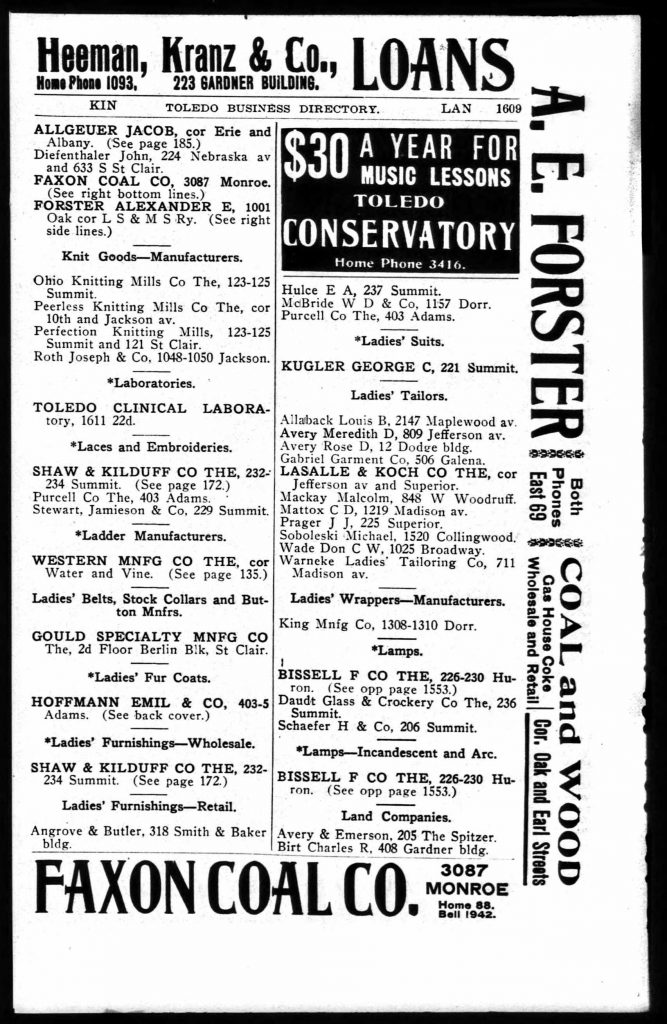 Due to being found guilty of murder, Michael's order of court admitting him into the US as a citizen was dismissed.
This story is a bit long, because the trial background and subsequent events that occurred. However, the outcome was Michael Soboleski just seemed to drop off the face of the earth after about 1921. I am still searching to see if he was paroled from prison, took on a different name, died, anything! The case itself is interesting and was carried in a number of newspapers, including the Dzienny Chicagoski.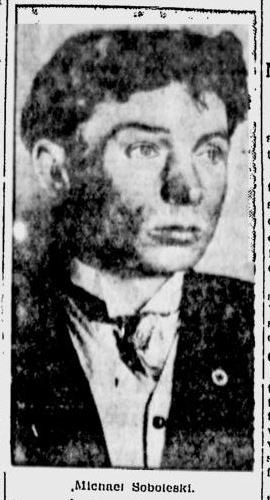 On or about 31 March 1909, Ludwig Krueger and his wife, Augusta, were murdered in their farmhouse located near Central and Monroe. Their home was found to be on fire in the very early morning hours of Thursday, 1 April. No trace of the Kruegers was found immediately. The home was completely destroyed. After the fire was extinguished, two boys were digging in the cellar of the remains of the structure. One had raised a brick and noticed a dead woman. The police and coroner were called to the scene and an investigation was opened. Two dead bodies were discovered in the basement, that of Mr. and Mrs. Krueger. The couple was stabbed to death and then buried in an attempt to cover up an arson.
Police were initially clueless about suspects and were initially suspicious about their son, Rudolph, who remained stoic and fairly silent through the investigation. But their investigation with the state fire marshal, W.S. Rogers of Cleveland, led them to discover that Sobolewski had arranged to purchase the Krueger home for $6900. The Friday prior, Soboleski claimed he paid Krueger $1000 and another $1000 the next day, Saturday. Soboleski claimed he saved the money in his house, that he did not trust banks. However, the investigation found receipts that showed he had deposited money in a bank and had recently borrowed $150 at a high interest rate from a loan company. Soboleski also provided receipts for the two $1000 transactions that he claimed were signed by Ludwig Krueger.
Suspicions turned toward Soboleski as this evidence came to light. There were questions regarding the authenticity of the signature on the receipts and why a man who would have the means to purchase a $6900 home with $2000 in cash would have required a high interest loan. Police then searched Soboleski's tailor shop and found a bloody towel and clothes that bore his tailor mark that were spattered with much and blood. Soboleski claimed the clothes belonged to an Italian who worked for him and went missing. Soboleski was arrested on 4 April and indicted on 15 April and was tried the following month. Evidence was brought forth that Sobolewski could not have paid the $2000 when he had a bank account with a $9 balance. Soboleski testified again it was cash and that he was awaiting a title to the farm through an attorney named J. O. Zabel. The state asserted the receipts were fake and called on experts on signatures, W.G. Pengelly of Columbus and E.F. Gleason from Toledo, to analyze the Krueger signatures. They had compared the signatures on the receipts to other documents that Krueger signed within his lifetime. The conclusion of both experts was that the receipts were poor forgeries.
Additionally, receipts were found that indicated Soboleski purchased coal oil and and candles the afternoon before.
Several of Soboleski's employees testified on his behalf. Margaret Reilly stated she knew Soboleski for three years and worked for him several other times previously and that she was at his shop on 30 March from 1:30 to 4:00, at which time he went to the Krueger farm. She claimed that she and Marie Lechlak closed the shop between 5:30 and 5:45 and left the key with a druggist named Faber. Margaret further testified that Soboleski was at his shop all day 31 March starting at 7:30 am, with the exception of a half hour. It was this half hour of time that the court asserted Soboleski purchased the coal oil and candles at Sawkins Grocery Store. On 1 April, Margaret stated that she saw "stage money" (fake money) at Soboleski's Bancroft Street shop, about a year before.
Alice Weyburn, a part proprietor of Soboleski's Bancroft shop, was also called as a character witness. She stated Soboleski was a quiet, peaceable man.
Others also provided testimony: His tailoring customers, a movie theatre owner who claimed Soboleski made a visit to the theatre at 8pm on one of the nights in questions, Sigmund Kaminski (I believe this is either Michael's brother-in-law or father-in-law) who related a phone conversation he had with Soboleski on 30 March regarding a loan he refused to give Soboleski, and a realtor who sold Soboleski the home he lived in on Norwood Avenue and gave testimony about Soboleski's timeliness on his mortgage.
Soboleski's wife, Pauline, gave a deposition. Her deposition was read to the jury where she stated the first she heard of Soboleski buying a farm was Monday 29 March and stated she said her husband arrived home by 7pm on Tuesday, 30 March and spent the evening at home, reading newspapers and playing the violin. She stated he was home all night. The next evening, he was also home about 7pm. But he got angry with her because he wanted to talk and she was tired and nervous and just wanted to be left alone. She went on to state he left the house, took his coat and hat, and returned about 10pm and went to be alone, that she remained up to mend stockings.
Pauline, on her cross examination, stated in the deposition that she never saw the money Soboleski claimed to have but that he did many things to surprise her and that she never meddled in his business. Pauline also stated she did not know how much they owed on their home. Additionally, she asserted that she did make a visit to the Krueger farm with her husband where they spoke about the Kruegers selling Michael the farm and he told her not to worry about the money.
There were witnesses that claimed or inferred that Soboleski was an anarchist and that his reputation as a peaceful man was false. Several witnesses, Frank Westfall, Michael Sulla, John Gasdowski, Michael Brzeczka, Rosa Moesing, and Mrs. E. F. Abbey provided this testimony that they had heard "inflammatory speeches" by Soboleski at Polonia Hall. The judge for this trial recognized Brzeczka and caused some drama himself by asking Brzeczka if he were the one who killed Dalkowski 25 years ago (see St. Hedwig Riot). (Brezeczka did not.)
Mrs. E.F. Abbey also claimed that Soboleski took his children away from their home the previous August and placed them with her. According to her, Soboleski only visited the children a few times and that Mrs. Soboleski was never present except for when they came to claim the children back.
Soboleski was given an opportunity to give a history of his life in court. He claimed he had $2000 saved up from the time he arrived in America nine or ten years prior and that he had that money still when he came to Toledo six years prior. He claimed he kept the money secret from his wife because he claimed "she would keep wanting things and making him spend money if she knew I had it."
He also claimed he told her he was going to buy the farm but she did not believe it, that he believe he was fooling her and she made fun of him. And yet, his own testimony showed that he borrowed money at high interest rates and had applied to several places to borrow more. He claimed that when he got in trouble with doing this–that the payments were difficult to keep up–that he didn't think it was such a good idea but he wanted to keep his $2000. Soboleski also testified that he owned $2000 on his home at which he was paying 6% interest.
Soboleski was found guilty of murder in the first degree and given a life sentence in the Ohio State Penitentiary. The state's case was based on facts that were established at the time of the murder: that Soboleski was in possession of the Krueger's horse on the evening of the murder and that Krueger was unable to finish his chores–a milk pail hadn't been taken in. It was also believed that robbers certainly would not have done such a murder–they would not have been motivated to bury the bodies and burn the home down if they were just seeking money or quick valuables to steal. Soboleski was transported from Toledo to the Penitentiary in Columbus on 28 June, assigned prisoner number 93248, and ultimately assigned to making prison clothing for women.
Shortly before Soboleski was sent to prison, his wife gave birth to their third child. Dziennik Chicagoski chastised Soboleski for not having baptized his children and then reported that two were baptized in St. Anthony's parish–the newest baby and the middle child. St. Anthony's parish baptismal register confims this–two Sobolewski children were baptized on 20 June 1909. 1
Much was written of Soboleski's trial in the newspapers–the Toledo Bee, Detroit Times, Dziennik Chicagoski, and a number of other newspapers throughout the Midwest. His story did not end in June 1909 when he was sentenced to life in prison. His wife, Pauline, went to Toledo Beach to live with a family who took her in. A local business man started a collection fund because she was left destitute after Michael had gone to prison. She also did embroidery to bring in an income. She divorced Michael several years later, remarried, and left the region. But Michael just didn't seem to want to give up the fight. There were two instances where he escaped prison: In 1911 and again in 1921. He also gave a partial confession to the murders by admitting the receipts were forgeries and he also asked for pardons.
In September 1911, Sobelski was a trusty in the Ohio penitentiary and was given the freedom of pressing clothing for the warden's family. Two weeks prior, Michael's wife filed for divorce and Michael learned of this as he was served the notice of the suit in prison. He escaped the prison, dressed in women's clothing. Two days later, he was found in Delaware, Ohio disguised in women's clothing. Pauline stated in the News Bee that she was afraid he was coming back to Toledo to kill her because she filed for the divorce.
On 22 February 1912, Soboleski confessed he forged a receipt for payment on the Krueger farm. He maintained that he was innocent of the actually killing of Ludwig and Augusta Krueger and implicated two Italians, one named Dallio, who previously worked for him. He then claimed that as he was leaving the Krueger farm after making a payment, he heard cries for help and he saw two Italians running out, carrying bloody knives. He feared his life and ran from the scene.
In June 1913 and again in July 1915, Soboleski asked for a pardon but was denied each time. Dziennik Chocagoski reported on on 12 June 1913 that "<Sobolewski> is writing a letter to the prosecutor for the third time" asking Milroy to try to have the state pardon and release him, that he has a promise from a good friend that he can stay freed and "that person will pay out $500 immediately." It was Dziennik Chicagoski's opinion that Sobolewski wanted to bribe the prosecutor. On 13 July 1915, the Akron Beacon Journal published a list of prisoners who completed applications for pardons. Soboleski was included in that list. Locating Soboleski's World War I draft registration (prisoners of age were required to complete the draft registration) and the 1920 census showing him in the Ohio Penitentiary shows that his pardons were denied.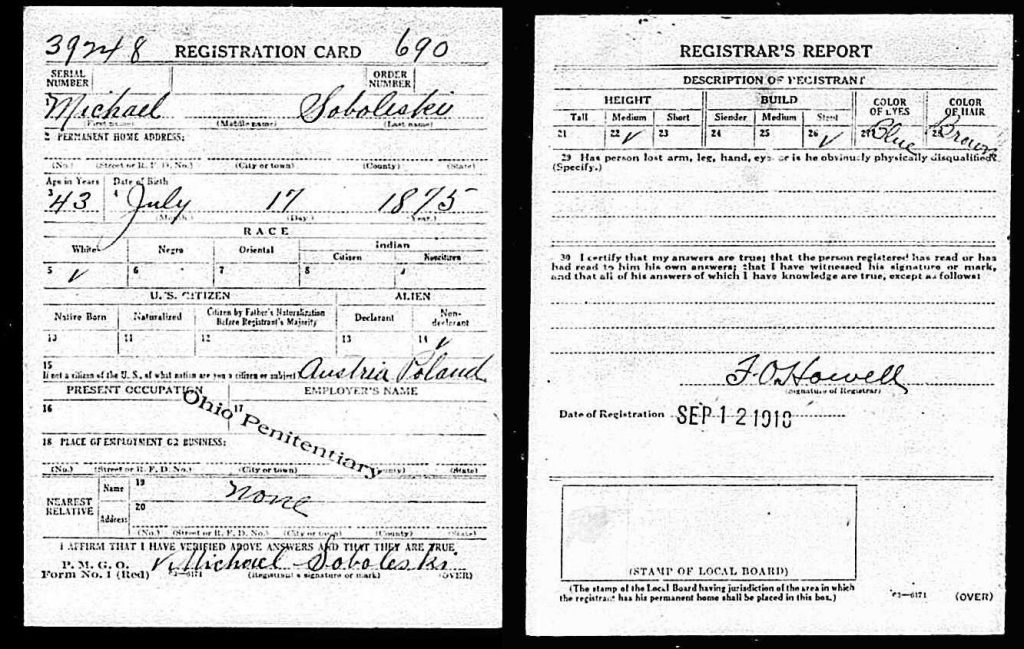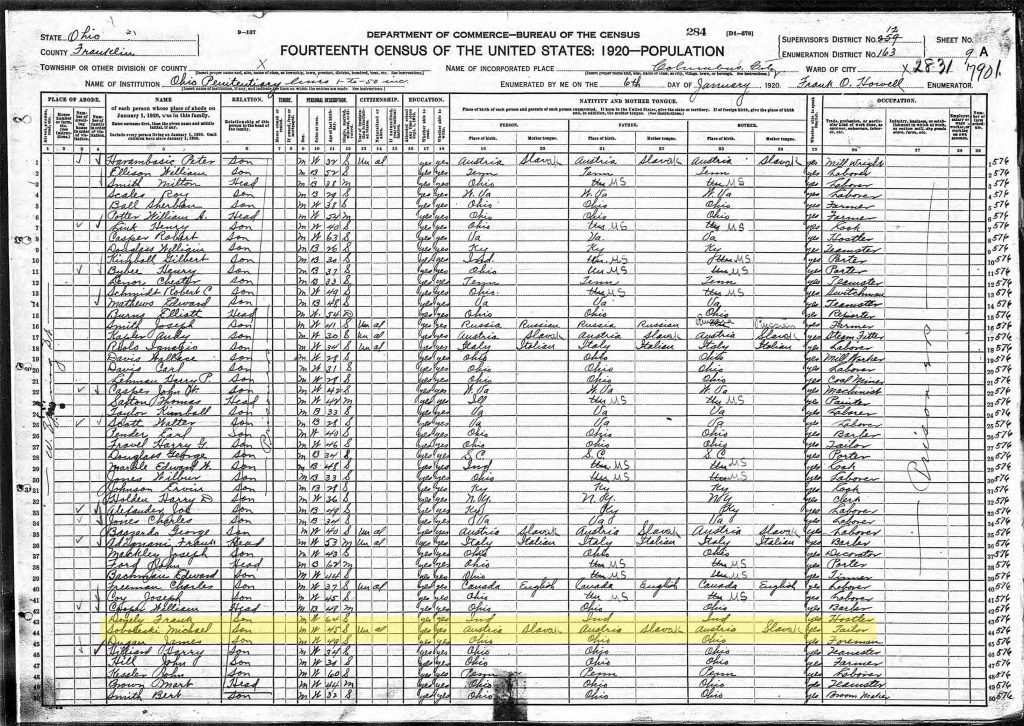 In November 1921, Soboleski again walks out of prison and escapes. This is where his trail goes cold. I have found no newspaper articles that state he was found. No records indicating he had died. Nothing indicating that he eventually was pardoned. There is documentation–the 1920 census–that definitely proves he was still in the Ohio State Penitentiary in 1920. But not a mention of him anywhere after his 1921 escape. No death certificate, I have not found him in the 1930 census, I cannot find anything.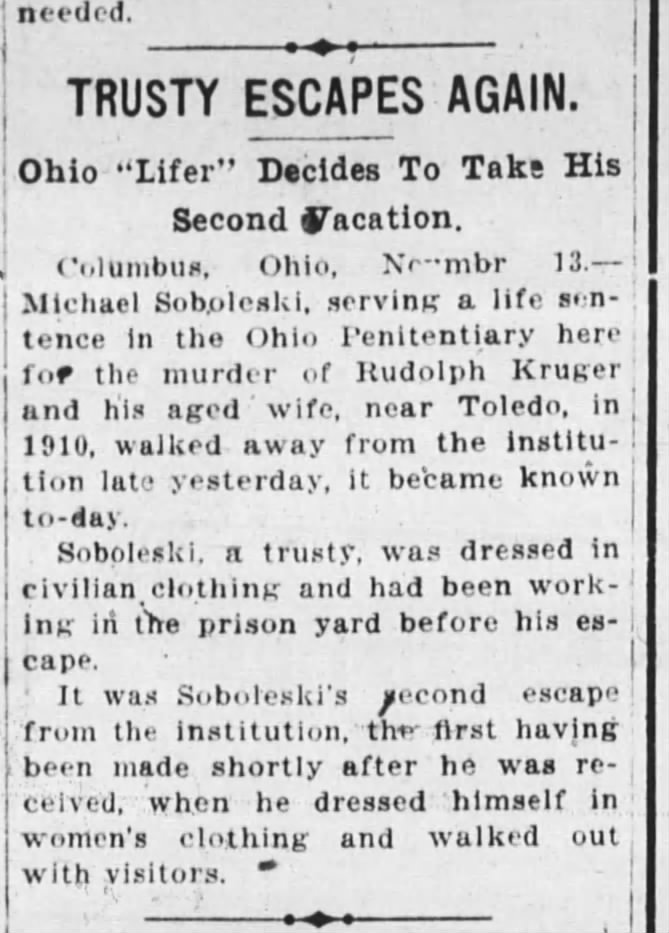 You'd think that with all the drama that surrounded this man that his story wouldn't so abruptly go cold. But it seemed to have. If anyone has knowledge of this story past 1921 and his second escape, please share! I have wondered if he changed his name, was released and left Ohio, or whether he was ever found after the second escape.
1. As with many Polish surnames, there are variant spellings. In this case, Soboleski and Sobolewski are the same name. In the American press, the name was typically reported as Soboleski. In Polish language sources such as Dziennik Chicagoski and in St. Anthony's parish records, the name is recorded as Sobolewski.
2. Most newspaper sources that carried the story of Soboleski's second escape has the year of the murder and sentencing incorrect. The correct year that the murder and sentencing occurred was 1909.